Tom's Weekly Tips, Links and Tidbits Newsletter
Wednesday 14th March 2012
---
G'day,
I trust this finds you fit and well.
I am going to start at the finish this week, just for a change.
A Dog's Purpose?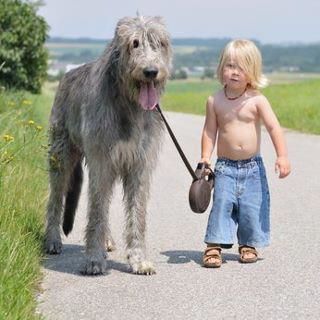 (from a 6-year-old).
Being a veterinarian, I had been called to examine a ten-year-old Irish Wolfhound named Belker. The dog's owners, Ron, his wife Lisa, and their little boy Shane, were all very attached to Belker, and they were hoping for a miracle.
I examined Belker and found he was dying of cancer. I told the family we couldn't do anything for Belker, and offered to perform the euthanasia procedure for the old dog in their home.
As we made arrangements, Ron and Lisa told me they thought it would be good for six-year-old Shane to observe the procedure. They felt as though Shane might learn something from the experience.
The next day, I felt the familiar catch in my throat as Belker's family surrounded him. Shane seemed so calm, petting the old dog for the last time, that I wondered if he understood what was going on. Within a few minutes, Belker slipped peacefully away.
The little boy seemed to accept Belker's transition without any difficulty or confusion. We sat together for a while after Belker's death, wondering aloud about the sad fact that animal lives are shorter than human lives. Shane, who had been listening quietly, piped up, "I know why."
Startled, we all turned to him. What came out of his mouth next stunned me. I'd never heard a more comforting explanation. It has changed the way I try and live.
He said, "People are born so that they can learn how to live a good life -- like loving everybody all the time and being nice, right?" The six-year-old continued, "Well, dogs already know how to do that, so they don't have to stay as long."
Live simply.
Love generously.
Care deeply.
Speak kindly.
Remember, if a dog was the teacher you would learn things like:
When loved ones come home, always run to greet them.
Never pass up the opportunity to go for a joyride.
Allow the experience of fresh air and the wind in your face to be pure Ecstasy.
Take naps.
Stretch before rising.
Run, romp, and play daily.
Thrive on attention and let people touch you.
Avoid biting when a simple growl will do.
On warm days, stop to lie on your back on the grass.
On hot days, drink lots of water and lie under a shady tree.
When you're happy, dance around and wag your entire body.
Delight in the simple joy of a long walk.
Be loyal.
Never pretend to be something you're not.
If what you want lies buried, dig until you find it.
When someone is having a bad day, be silent, sit close by, and nuzzle them gently.
There comes a time in life, when you walk away from all the drama and people who create it. You surround yourself with people who make you laugh, forget the bad, and focus on the good. So, love the people who treat you right. Think good thoughts for the ones who don't. Life is too short to be anything but happy. Falling down is part of LIFE...Getting back up is LIVING...
Have a great life.
by: Ultima National Resources, LLC
---
Basic Computer User | Advanced Computer User | Health | Humour | Other

---
---
---
Psychiatry's Master Plan for Control
Here are actual recordings of a prominent English psychiatrist by the name of Colonel J R Rees addressing the National Council of Mental Hygiene in October 1940 and his colleague G. Brock Chisholm, the co-founder of the World Federation for Mental Health setting the agenda for psychiatry's influence and control of every sector of your life. Today it's becoming more a reality with mental illness being diagnosed for all and any of life's inherent difficulties www.youtube.com/watch?v=Nh6-79wc2Ac#!
Here's This Weeks Reminder to Focus On the Important Things
A group of alumni, well established in their careers, got together to visit their old university professor.
The conversation soon turned into complaints about stress in work and life.
Offering his guests coffee, the professor went to the kitchen and returned with a large pot of coffee and an assortment of cups - porcelain, plastic, glass, crystal, some plain-looking, some expensive, and some exquisite -- telling them to help themselves to the coffee. After all the students had a cup of coffee in hand, the professor said:
"If you noticed, all the nice looking expensive cups were taken up, leaving behind the plain and cheap ones. While it is normal for you to want only the best for yourselves, that is the source of your problems and stress. Be assured that the cup itself adds no quality to the coffee. In most cases, it's just more expensive and in some cases even hides what we drink."
"What all of you really wanted was coffee, not the cup, but you consciously went for the best cups and then began eying each other's cup."
"Now consider this: Life is the coffee. The jobs, houses, cars, things, money and position in society are the cups. They are just used to hold and contain life. The type of cup we have does not define nor change the quality of life we live. Sometimes, by concentrating only on the cup, we fail to enjoy the coffee Nature has provided us."
Coke & Pepsi Lose In Court, Must Reduce Cancer-Causer
(This is an excerpt from a newsletter I receive from Sherry Brescia, the author of Great Taste No Pain, a book on food combining that is a great solution for people with digestive problems.)
After a lengthy legal battle with the state of California, which they lost, Coke and Pepsi must reduce (not take out) a cancer causing ingredient in their soft drinks.
Seems that there were "trace" amounts of a known carcinogen (4-methylimidazole) in the caramel coloring used by both companies.
And even though scientists contend that the trace amount of this carcinogen poses "no immediate health concerns," the companies are still changing the way they make their coloring.
Because they don't want to put a cancer warning on the labels.
Not because they want to make their drinks healthier. (They did ferociously fight against this in court after all)
And here's something else for you to think about...
Coke and Pepsi can remove all the 4-methylimidazole on the planet but that still doesn't change the fact that what remains in soda is about as good for you as drinking kerosene, and most assuredly can play a role in the development of cancer, even WITHOUT this known carcinogen in the formula.
Don't Be Conned Into Taking Statins!
One particular heart surgeon speaks out about the advice that isn't working and causes more harm than good: http://www.sott.net/articles/show/242516-Heart-Surgeon-Speaks-Out-On-What-Really-Causes-Heart-Disease
---
Sunday Morning
There was a knock on my door this past Sunday morning. I opened it to find a young, well-dressed man standing there who said: "Hello sir, I'm a Jehovah's Witness."
So I said: "Welcome, come in and sit down." I offered him a fresh cup of coffee and asked "What do you want to talk about?"
He said, "Beats the heck out of me, I've never gotten this far before."
Housekeeper
She was a great housekeeper - divorced 4 times and kept the house each time.
2 Fish
Two fish were in a tank. One turned to the other and asked "Any idea how to drive this thing?"
---
Arizona sheriff finds Obama presidential qualifications forged
Arpaio asserts that his investigators discovered, during a 6 month long investigation which is ongoing, not only was the "Long Form" likely a digitally created forgery, but the presidents Selective Service Card (Draft Card), allegedly filed in 1980, was also a forgery. These documents are what Barack Hussein Obama relies upon to prove his constitutional eligibility to the office of President of the United States. http://english.pravda.ru/opinion/columnists/07-03-2012/120708-arizona_sheriff_obama-0/
Success Secrets
When I woke up this morning lying in bed, I was asking myself, "What are some of the secrets of success in life?"
I found the answer right there, in my very room.
The fan said.............Be cool.
The roof said...........Aim high.
The window said.......See the world.
The clock said..........Every minute is precious.
The mirror said..........Reflect before you act.
The calendar............Be up-to-date.
The door said............Push hard for your goals.
Author Unknown
Interesting Quote
I am part of a lost generation
and I refuse to believe that
I can change the world
I realize this may be a shock but
"Happiness comes from within."
is a lie, and
"Money will make me happy."
So in 30 years I will tell my children
they are not the most important thing in my life
My employer will know that
I have my priorities straight because work
is more important than family
I tell you this
Once upon a time
Families stayed together
but this will not be true in my era
This is a quick fix society
Experts tell me
30 years from now, I will be celebrating the 10th anniversary of my divorce
I do not concede that
I will live in a country of my own making
In the future
Environmental destruction will be the norm
No longer can it be said that
My peers and I care about this earth
It will be evident that
My generation is apathetic and lethargic
It is foolish to presume that
There is hope.

NOW READ THE MSG FROM BOTTOM TO TOP

US Attorney General Eric Holder confirms government has right to murder U.S. citizens anywhere, anytime, without legal review
Attorney General Eric Holder, Jr., says the U.S. Constitution does not protect American citizens who may be plotting to kill other Americans via terrorism. http://www.naturalnews.com/035184_Eric_Holder_American_citizens_murder.html
Pirates of the Caribbean - Incredible Piano Solo of Jarrod Radnich Filmed by ThePianoGuys
A great listen! www.youtube.com/watch?v=NzGgX1DihPw#!
Until next time,
dream big dreams,
read widely,
think well of your fellow man,
eat food that's good for you
and do the important things
that make a difference -
they are rarely the urgent ones!

How To Live The Healthiest Life


Tom Grimshaw creates software, healthy snacks and
is also an optimum wellness researcher/writer who
enjoys bringing you the oldest and newest tips to
improve each of your 12 pillars of Optimal Health.

Check out the special report he has compiled here
How to Live The Healthiest Life
---
Copyright 2012 by Tom Grimshaw - ALL RIGHTS RESERVED.
Back Issues | Feedback | Subscribe | Unsubscribe
Software Development
Festival Management Software
Free Business Evaluation Questionnaire
Healthy Snacks
How to Defeat Artificially Accelerated Aging and its Degenerative Diseases