Tom's Weekly Tips, Links and Tidbits Newsletter
Wednesday 23rd November 2011
---
G'day,
I trust this finds you fit and well.
---
Basic Computer User | Advanced Computer User | Health | Humour | Other

---
---
---
7 Tips For Dealing With Health Advisers
A facebook friend asked me if she should tell her health adviser about a symptom as she was afraid the adviser would prescribe mroe drugs to her. This was my response.
1. Always and only do what you know to be right, regardless of whom it upsets, offends, ticks off or disappoints. After all, you have to live with you.
2. Endeavour to do it in a manner that minimises upset with others.
3. Always provide an adviser with ALL the facts you have on the subject so they can give you the best advice relevant to your circumstances.
4. If you do not understand something, ask them to explain it.
5. If you do not agree with their advice or recommendation, ask for what alternatives are available and the data that they have that supports their recommendation.
6. If that does not resolve the disagreement you have with their advice, tell them the data you are operating on and what you consider to be your best course of action and see what they say. Then revise your stance or not, as YOU see fit.
7. NEVER surrender to a domineering or authoritarian attitude or take advice with which you do not agree given in that manner. Those are almost always wrong as they are an attempt to overwhelm you rather than assist you. The two are not compatible.
Doctor's advice? Cut out all wheat products
Heart doctor says the world's most popular grain is also the world's most destructive dietary ingredient. http://www.windsorstar.com/health/Doctor+advice+wheat+products/5707060/story.html
A Reality Altering View of the Risks to Your Health
From the Natural Solutions Foundation. http://www.youtube.com/watch?feature=player_embedded&v=-5CWAwnHdyI#!
---
A Cartoon on Management
Again I saw this on Facebook and thought it worthy of comment.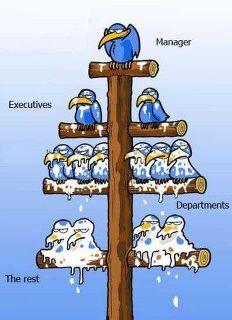 When top level guys look down they see only shitheads.
When bottom level guys look up they see only assholes.
How many times have I heard a variation on that! End of humour, beginning of management tip.
As time goes by it becomes easier and easier to overestimate the capabilities of people and to expect more of them than that of which they are capable or trained well enough to deliver. Understanding the purpose for doing something and being grooved in on the actions required to attain the product are vital if production in viable volume is to be attained and morale to be maintained.
---
The Biggest Threat to World Peace is the USA
In 2006, while speaking in Alabama, Gen. Wesley Clark recounted his conversation with a general at the Pentagon in November, 2001. Gary Leupp quotes Clark: I said, "Are we still going to invade Iraq?" "Yes, Sir," he said, "but it's worse than that." I said, "How do you mean?" He held up this piece of paper. He said, "I just got this memo today or yesterday from the office of the Secretary of Defense upstairs. It's a, it's a five-year plan. We're going to take down seven countries in five years. We're going to start with Iraq, then Syria, Lebanon, then Libya, Somalia, Sudan, we're going to come back and get Iran in five years. I said, "Is that classified, that paper?" He said, "Yes Sir." I said, "Well, don't show it to me, because I want to be able to talk about it." http://www.infowars.com/cables-reveal-state-department-cia-ngos-fomented-syrian-unrest/
UKIP Nigel Farage - How dare you tell the Italian and Greek people what to do !!! Nov 2011
Wow! We have some real truth tellers emerging! Let's spread their message. http://www.youtube.com/watch?v=ULns-cSUeVs
Great Question from Great Marketer
This guy is a top copywriter and this is a great article. http://www.john-carlton.com/2011/11/so-hows-that-working-out-for-you/
Until next time,
dream big dreams,
read widely,
think well of your fellow man,
eat food that's good for you
and do the important things
that make a difference -
they are rarely the urgent ones!

How To Live The Healthiest Life


Tom Grimshaw creates software, healthy snacks and
is also an optimum wellness researcher/writer who
enjoys bringing you the oldest and newest tips to
improve each of your 12 pillars of Optimal Health.

Check out the special report he has compiled here
How to Live The Healthiest Life
---
Copyright 2011 by Tom Grimshaw - ALL RIGHTS RESERVED.
Back Issues | Feedback | Subscribe | Unsubscribe
Software Development
Festival Management Software
Free Business Evaluation Questionnaire
Healthy Snacks
How to Defeat Artificially Accelerated Aging and its Degenerative Diseases