Tom's Weekly Tips, Links and Tidbits Newsletter
Wednesday 5th October 2011
How To Live The Healthiest Life



Tom Grimshaw is an Optimum Wellness Researcher/Writer
who enjoys bringing you the oldest and newest tips to
improve each of your 12 pillars of Optimal Health.
Check out the special report How to Live The Healthiest Life
---
G'day,
Hope this finds you fit and well.
---
Basic Computer User | Advanced Computer User | Health | Humour | Other

---
---
---
Has Psychiatry Been Corrupted Beyond Repair?
Some quotes from the article: "no industry has been as systematic nor as successful as drug companies in infiltrating the knowledge base concerning their products" and "Not surprisingly, drug company sponsored research is four times more likely to produce positive results than independent research." http://www.psychologytoday.com/blog/the-roving-psychologist/201109/has-psychiatry-been-corrupted-beyond-repair
From Dr Pepi on Vitamin B1
Thiamine (B-1) is the "anti-stress" vitamin. Not only does B-1 reduce stress, it can also make you feel happier. It can improve your ability to think clearly by improving brain function. B-1 is an immune system booster and protects against aging. It is essential for your body to metabolize (break down) fats, carbs and proteins. B-1 helps preserve the health of your heart, muscles and nervous system. Thiamine is a great energy producer. Deficiencies affect cardiovascular, nervous, muscular and gastrointestinal tissues.
As vitamin B-1 does not store in your body, it is depleted quickly and easily. For instance, one upset can really deplete your supply of B-1! These things also deplete your B-1: drugs, antibiotics, alcohol, cigarettes, sodas, caffeine, sugar and chocolate. (I know, I know, this is upsetting - go take some B-1.)
---
Doctor! Doctor!
What's wrong?
I've broken my arm in several places. What do you recommend?
Don't go to those places!
Doctor! Doctor!
What's wrong?
I have a strawberry growing out of my head! What do you recommend?
I have some cream you can put on it.
---
Until next time, dream big dreams, read widely, think well of your fellow man, eat food that's good for you and do the important things that make a difference - they are rarely the urgent ones!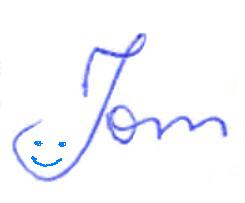 ---
Copyright 2011 by Tom Grimshaw - ALL RIGHTS RESERVED.
Back Issues | Feedback | Subscribe | Unsubscribe
Software Development
Festival Management Software
Free Business Evaluation Questionnaire
Healthy Snacks
How to Defeat Artificially Accelerated Aging and its Degenerative Diseases