Tom's Weekly Tips, Links and Tidbits Newsletter
Wednesday 13th July 2011
How To Live The Healthiest Life



Tom Grimshaw is an Optimum Wellness Researcher/Writer
who enjoys bringing you the oldest and newest tips to
improve each of your 12 pillars of Optimal Health.
Check out the special report How to Live The Healthiest Life
---
G'day,
Hope you are having a great week.
I would just like to congratulate the youngest of my three fantastic children for getting two credits for her first semester of her MBA post-graduate course! What's that? you ask. Isn't she the one who left high school in year ten to do voluntary work? The one who did not finish high school or do uni and is now doing a post graduate degree? Yep! He says with great repect for her accomplishments, that one! Congratulations Cadienne!

It's at times like these that I am surprised, nay, in awe, at how well our three turned out despite the imperfect parenting they received. Makes one realise how resilient and unique is the human spirit. Physically you could barely tell them apart at birth yet they all have incredibly high capabilities in completely different areas.

My eldest daughter Teal wrote me: "Jarrod came over yesterday and Shianne and Nahla did a performance with a circuit that was straight from the seal show at the zoo. I love this pic as Shianne is soooooo happy in it! Take special note of the handmade zookeeper's food pouch on the hip!"
---
Basic Computer User | Advanced Computer User | Health | Humour | Other

---
---
---
Quote From Linus Pauling, PhD, Two Time Nobel Prize Winner
"Everyone should know that the 'war on cancer' is largely a fraud."
ElectroSmog or Geopathic Stress (harm from radiation) of Wireless
Check out these results on heart rate from a EMF pollution from a cordless phone: http://electromagnetichealth.org/electromagnetic-health-blog/electrosensitivity-series-arrythmia-connection-with-electrosmog/
The Goal of Psychiatry
I read a post on 200 psychiatric patients dying this year alone just in Victoria and I got to thinking of all I have read on the abuses of psychiatry and how best to summarise and communicate it.
The goal of psychiatry is not, as is presumed, to improve the patient. Their goal is to control. Their modus operandi is (through imprisonment, straight jackets, lobotomies and drugs) the restraint of unwanted motion. Someone moves in a fashion unacceptable to them and they want to stop it. Stillness is the goal.
"See." they say, "he's not twitching any more. We've fixed him."
Not twitching? HE'S NOT MOVING!
How still can you be?
Dead!
Their physical and chemical restraints are unfortunately all too often deadly.
It is a barbaric practice that cannot be outlawed quickly enough.
"The Beautiful Truth" Trailer - Documentary on the Gerson Therapy
Here's data on an Alternative Cancer Cure. If you want to know more, contact me. http://www.youtube.com/watch?v=zWARBF_eR2A
60 Things that Can Go Terribly Wrong with Hepatitis B Vaccination
All the way up to shock and death. http://articles.mercola.com/sites/articles/archive/2011/07/07/60-things-that-can-go-terribly-wrong-with-hepatitis-b-vaccination.aspx
Don't Swap A Nicotine Addiction for a Stroke or Suicide
Taking Pfizer's drug to help you stop smoking may light the fuse on a health time bomb for you.
Researchers analyzed data from 14 clinical trials, involving 8,216 patients. They concluded that the drug was associated with a 72 per cent increased risk of hospitalization due to serious cardiovascular events, such as heart attack, arrhythmia or stroke. The findings were published in the Canadian Medical Association Journal.
Lead researcher Professor Curt D. Furberg, said, "We have known for many years that Chantix is one of the most harmful prescription drugs on the US market, based on the number of serious adverse effects reported to the FDA. It causes loss of consciousness, visual disturbances, suicides, violence, depression and worsening of diabetes. To this list we now can add serious cardiovascular events."
Olive Oil for Salads and Coconut Oil for Cooking
People who use more olive oil are at less risk for stroke than people who don't. But for cooking, use coconut oil. It is the only oil that does not change molecular structure when it is heated.
Big Pharma only interested in profits, not health
Gwen Olsen, an ex-pharmaceutical sales representative, is using her personal experience and insider knowledge to turn the tables on Big Pharma and tell people the disturbing and disheartening truth about the highly corrupt industry: http://www.naturalnews.com/032971_Gwen_Olsen_Big_Pharma.html#ixzz1RvyNyyWG
10 Herbs and Spices for the Kitchen and Medicine Cabinet
A great article on core herbs and spices: http://www.alignlife.com/articles/food/10_Herbs_and_Spices_for_the_Kitchen_Medicine_Cabinet.html
---
Guiseppe's Secret to a Happy Marriage
At St. Peter's Church in Toronto, they have weekly husband's marriage seminars.
At the session last week, the priest asked Giuseppe, who said he was approaching his 50th wedding anniversary, to take a minutes and share some insight into how he had managed to stay married to the same woman all these years.
Guiseppe replied to the assembled husbands, "Well, I trya to treat her nicea, spenda da money on her, but besta of all is, I tooka her to Italy for the 25th anniversary".
The priest responded, "Giuseppe you are an amazing inspiration to all the husbands here. Please tell us what you are planning for your wife for your 50th anniversary?"
Guiseppe proudly replied, "I gonna go pick her up!"
---
Until next time, dream big dreams, read widely, think well of your fellow man, eat food that's good for you and do the important things that make a difference - they are rarely the urgent ones!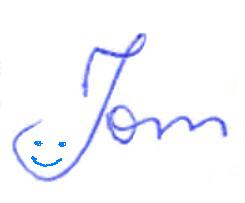 ---
Copyright 2011 by Tom Grimshaw - ALL RIGHTS RESERVED.
Back Issues | Feedback | Subscribe | Unsubscribe
Software Development
Festival Management Software
Free Business Evaluation Questionnaire
Healthy Snacks
How to Defeat Artificially Accelerated Aging and its Degenerative Diseases