Tom's Weekly Tips, Links and Tidbits Newsletter
Wednesday 15th June 2011

Tom Grimshaw is an Optimum Wellness Researcher/Writer
who enjoys bringing you the oldest and newest tips to
improve each of your 12 pillars of Optimal Health.
Check out the special report How to Live The Healthiest Life
---
G'day,
Hope you are having a great week.
---
Basic Computer User | Advanced Computer User | Health | Humour | Other
---
---
---
---
No Sunday Paper
This is dedicated to all of us who are seniors, to all of you who know seniors, and to all of you who will become seniors.
The irate customer called the newspaper office, loudly demanding to know, "WHERE is my Sunday paper?"
"Madam", said the newspaper employee, "today is Saturday. The Sunday paper is not delivered until tomorrow, on SUNDAY".
There was quite a long pause on the other end of the phone, followed by a ray of recognition as she was heard to mutter, "Well, shit, that explains why no one was at church either."
---
Until next time, dream big dreams, read widely, think well of your fellow man, eat food that's good for you and do the important things that make a difference - they are rarely the urgent ones!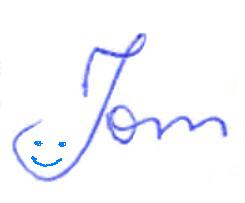 ---
Copyright 2011 by Tom Grimshaw - ALL RIGHTS RESERVED.
Back Issues | Feedback | Subscribe | Unsubscribe
Software Development
Festival Management Software
Free Business Evaluation Questionnaire
Healthy Snacks
How to Defeat Artificially Accelerated Aging and its Degenerative Diseases