Tom's Weekly Tips, Links and Tidbits Newsletter
Wednesday 1st June 2011

Tom Grimshaw is an Optimum Wellness Researcher/Writer
who enjoys bringing you the oldest and newest tips to
improve each of your 12 pillars of Optimal Health.
Check out the special report How to Live The Healthiest Life
---
G'day,
Hope you are having a great week.
I was called on to give a talk about worm farming at Athena, my grandchildren's school. I thought I'd do a bit of homework to make sure my practical experience was matched with the appropriate amount of theory and came across these valuable resources. On composting: http://www.wvu.edu/~agexten/wastmang/compost.htm and on worms: http://www.ryde.nsw.gov.au/services/worm.htm We find it very easy to put all our non-meat and dairy vegetable scraps into a different bin in the kitchen then empty it into an Aerobin composter. Very easy and, according to the worms and gardens, great results!
I was browsing the Facebook wall of someone who commented on another's post and came across this quote from Maya Angelou. It concisely summarises an idea I often promote to people.
"You can only become truly accomplished at something you love.
Don't make money your goal. Instead, pursue the things you love doing,
and then do them so well that people can't take their eyes off you."
---
Basic Computer User | Advanced Computer User | Health | Humour | Other
---
---
---
---
Have a Laugh at This
A youngster and an otter playing tag http://www.youtube.com/watch?v=n9APqLA2YKs
Shampoo alert!
My daughter Teal sent me this one. As she sells goat's milk and Castille soaps and shampoos I thought it was going to be another warning about the toxic and carcinagenic chemicals they put in the commercial stuff. But no!

As I was conditioning my hair in the shower this morning, I took time to read my shampoo bottle. I am in shock!
The shampoo I use in the shower that runs down my entire body says "for extra volume and body"!

Seriously, why have I not noticed this before?
Now I understand why I am so "full-figured"!

Tomorrow I am going to start using "Dawn" dish soap. It says right on the label "dissolves fat that is otherwise difficult to remove."

It pays to read the warning labels!
---
Dick Smith Has A New Book Out
Advocating population reduction.
I vote that every genocidal maniac who advocates population reduction instead of using intelligence to solve the problems lead by example and immediately take themselves out of the population pool.
Most constructive thing they could do all round.
David Mamet on Writing Drama
Learned a few things here... http://www.slashfilm.com/a-letter-from-david-mamet-to-the-writers-of-the-unit/
Until next time, dream big dreams, read widely, think well of your fellow man, eat food that's good for you and do the important things that make a difference - they are rarely the urgent ones!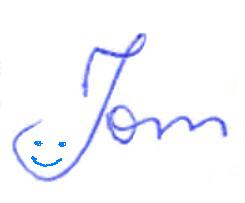 ---
Copyright 2011 by Tom Grimshaw - ALL RIGHTS RESERVED.
Back Issues | Feedback | Subscribe | Unsubscribe
Software Development
Festival Management Software
Free Business Evaluation Questionnaire
Healthy Snacks
How to Defeat Artificially Accelerated Aging and its Degenerative Diseases