Toms Tips, Links and Tidbits Newsletter
Wednesday 6th April 2011
---
G'day,
Hope you are having a great week.
Gotta finish telling you this one.

I started last week but got interrupted before finishing it and never got back to it before hitting the send button. It definitely pays to poroof read the WHOLE newsletter!

Shianne is my grand daughter. Grand in more ways than one.

She rang me up last week and warned me, "This is not going to be a quick call, it might take some time."

Duly prepared (and having received an email from her school earlier in the day about the raffle) I sensed some serious selling was about to take place. The week before she told me that her school were having their annual raffle again.

Shianne says to me, "I know you're busy and you don't have to do it or go out of your way but if someone comes over, could you talk to them about buying a raffle ticket? One ticket for $2, 3 tickets for $5." Trying to teach her about quantity discounts, negotiating skills and bargaining, I ask her how much for a whole book? There are 40 tickets to a book.

She comes back to me and says a whole book is $40.

The funds go to the school, no portion to grand daughter or self.

The prizes are big Easter hampers.

So, to paraphrase my grand daughter (she taught me everything I know about selling), you don't have to if you don't want to but if you would like to help the school, potentially win a prize and make the day of one of the most charming 7 year olds ever to grace a sales call, feel free to give me a call and get one or more raffle tickets from her grandfather. No urgency. Cut off is Thursday April 7th. I know you can't get the $ to me by then but I will make sure the school gets the $ and you can pay me. I will also make sure your name gets on the number of tickets corresponding to the number you purchased. Important point that.
---
Basic Computer User | Advanced Computer User | Health | Humour | Other
---
---
---
Correct Data on "Oil-Pulling" Detox
Given what we now know about oil pulling, it might be better to refer to it by its less common name, oil swishing, since there probably is no "pulling" of toxins from the body involved. But even more important, if we truly understand what it's doing and how it's doing it, we can probably tweak the technique a bit to make it that much more effective. http://www.jonbarron.org/detox/nl110404/oil-pulling-strong-immunity
Foam Roller Techniques
Here is a link to a video on some foam roller techniques http://www.youtube.com/watch?v=Ar-qT9EGm1U
Boost Your Metabolism, Curb Cancer, and Slash Blood Sugar with this Easy Culinary Trick
Herbs are not only great in meals for spice and added flavor but are key to the nutritional density in the foods you eat. Herbs can protect you against diseases, clear toxins from your body, and provide you with vitamins and minerals. http://articles.mercola.com/sites/articles/archive/2011/04/04/9-healing-herbs-and-how-to-use-them-in-your-cooking.aspx
You Will Eat What the State Mandates, or Else!
Killing your kids with fast foods is acceptable, with breast milk isn't. The real message is that if you are planning a major dietary change, educate yourself on the ramifications of that change and act according to the data. http://www.naturalnews.com/031883_vegans_criminals.html
Farmers Sue Monsanto Over Crop Contamination
Monsanto has a long and evil history of suing farmers whose crops were contaminated with GMOs. Monsanto calls that a "theft" of intellectual property. Organic farming groups are attempting a unique legal strategy of preemptively suing Monsanto so that they won't be blamed for "pirating" patented seeds that happen to blow onto their non-GMO crop fields. http://www.naturalnews.com/031922_Monsanto_lawsuit.html
Health Tip for Your Mind
"Do the thing you fear, and the death of fear is certain" ~ Ralph Waldo Emerson
China Modifies Cows To Produce Human Breastmilk
Chinese scientists have announced that they have introduced human genes into a herd of 300 cows that will cause the cows' milk to have much more "human" milk properties. http://www.care2.com/causes/real-food/blog/china-modifies-cows-to-produce-human-breastmilk/
CDC releases report about scientist working with plague virus who died within hours
Seems hemochromatosis and the plague are an even more deadly combination. http://www.naturalnews.com/031961_plague_virus.html
Special Offer - Free Fitness Class For A Week Then 25% Off
I do an exercise circuit round Wentworth Park every morning with my two dogs. Michael Wilson, who runs Eliven Fitmess, is always very helpful with his tips to keep me doing my exercises with the proper form. He asked me if I wanted to give my readers a special offer. Of course I jumped at the chance! "FREE 7 Day Unlimited Group Training Pass" plus 25% off your first month of training if you join. If you live or work in or near Glebe, take him up on the free week and see how much better you feel afterwards. Oh, and to get your discount, make sure you tell him I sent you. http://www.enlivenfitness.com.au
---
Comedy or Tragedy?
We had to have the garage door repaired. The repairman told us that one of our problems was that we did not have a large enough motor on the opener. I thought for a minute, and said that we had the largest one made at that time, a 1/2 horsepower He shook his head and said, 'You need a 1/4 horsepower.'

I responded that 1/2 was larger than 1/4 and he said, 'NOOO, it's not. Four is larger than two.'
---
Japan may have lost race to save nuclear reactor
The radioactive core in a reactor at the crippled Fukushima nuclear power plant appears to have melted through the bottom of its containment vessel and on to a concrete floor, experts say, raising fears of a major release of radiation at the site. http://www.guardian.co.uk/world/2011/mar/29/japan-lost-race-save-nuclear-reactor
90-year-old man recounts a remarkable experience he had in WWII
He was no enemy... ...he was just like me. http://www.wimp.com/remarkableexperience/
Australia plays down secret copyright treaty impact
It's all OK, we're from the government, there's no danger, you're in safe hands... http://www.itnews.com.au/News/252967,australia-plays-down-secret-copyright-treaty-impact.aspx
105 Year Old Street Car Film Footage
This is a fascinating movie taken in 'Frisco just before the earthquake. A camera was mounted on the front of a street car. Some of the cars had steering wheels on the right side. I wonder when they standardised on the left? Sure were still a lot of horse drawn vehicles in use. Mass transit looked like the way to get around. Looks like everybody had the right of way.
Watch the beginning carefully. At the 33 second mark and immediately after an oncoming trolley clears the screen, a well dressed policeman walks across the street from left to right. Notice his right hand that he's carrying a truncheon (26 inch police baton) and although he appears walking his beat, he looks ready to use it. Imagine the police of today walking down the street carrying a 26 inch club in their hand?
This film was originally thought to be from 1905 until David Kiehn with the Niles Essanay Silent Film Museum figured out exactly when it was shot. From New York trade papers announcing the film showing to the wet streets from recent heavy rainfall & shadows indicating time of year & actual weather and conditions on historical record, even when the cars were registered (he even knows who owned them and when the plates were issued!). It was filmed only four days before the Great California Earthquake of April 18th 1906 and shipped by train to NY for processing. http://www.youtube.com/watch_popup?v=NINOxRxze9k

More data can be read on the film here... http://www.sfmuseum.org/loc/trip.html
Ozone layer drops record 40% over Arctic
The losses this winter in the Arctic's fragile ozone atmospheric layer strongly exceeded the previous seasonal loss of about 30 per cent, the UN's World Meteorological Organisation in Geneva said. http://nz.news.yahoo.com/a/-/world/9146135/ozone-layer-drops-record-40-over-arctic/
Until next time, dream big dreams, read widely, think well of your fellow man, eat food that's good for you and do the important things that make a difference - they are rarely the urgent ones!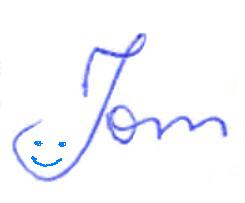 ---
Copyright 2011 by Tom Grimshaw - ALL RIGHTS RESERVED.
Back Issues | Feedback | Subscribe | Unsubscribe
Software Development
Festival Management Software
Free Business Evaluation Questionnaire
Healthy Snacks
How to Defeat Artificially Accelerated Aging and its Degenerative Diseases