Toms Tips, Links and Tidbits Newsletter
Wednesday 30th March 2011
---



G'day,

Hope you are having a great week.

Gotta tell you this one.

Shianne is my grand daughter. Grand in more ways than one. She rings me up tonight and warns me that this is not going to be a quick call, it might take some time. Duly prepared (and having received an email from her school earlier in the day about the raffle) I sense some serious selling is about to take place. A week ago she told me that her school are having their annual raffle again. One ticket for $2, 3 for $5. Trying to teach her about quantity discounts, negotiating skills and bargaining I ask her how much for a whole book?

---
Basic Computer User | Advanced Computer User | Health | Humour | Other
---
---
---
---
Priceless!
Couple in their 90's both having problems remembering things. During a checkup, the doctor tells them that they're physically okay, but to help them remember they might want to start writing things down. Later that night, while watching TV, the old man gets up from his chair.
'Want anything while I'm in the kitchen?' he asks.
'Will you get me a bowl of ice cream?'
'Sure.'
'Don't you think you should write it down so you can remember it?' she asks.
'No, I can remember it.'
'Well, I'd like some strawberries on top, too. Maybe you should write it down, so not to forget it?'
He says, 'I can remember that. You want a bowl of ice cream with strawberries.'
'I'd also like whipped cream. I'm certain you'll forget that, write it down?' she asks.
Irritated, he says, 'I don't need to write it down, I can remember it! Ice cream with strawberries and whipped cream - I got it, for goodness sake!'
Then he toddles into the kitchen. After about 20 minutes, the old man returns from the kitchen and hands his wife a plate of bacon and eggs. She stares at the plate for a moment and asks, 'Where's my toast ?'
---
Until next time, dream big dreams, read widely, think well of your fellow man, eat food that's good for you and do the important things that make a difference - they are rarely the urgent ones!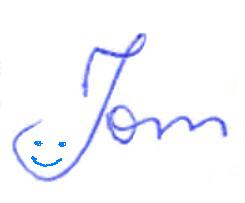 ---
Copyright 2011 by Tom Grimshaw - ALL RIGHTS RESERVED.
Back Issues | Feedback | Subscribe | Unsubscribe
Software Development
Festival Management Software
Free Business Evaluation Questionnaire
Healthy Snacks
How to Defeat Artificially Accelerated Aging and its Degenerative Diseases