Toms Tips, Links and Tidbits Newsletter
Wednesday 16th March 2011
---
G'day,
Hope you are having a great week.
If you are, listen to this and take it to a whole new level! If you aren't listen to this then go out and make it one! "I am a champion!" http://www.youtube.com/watch?v=yX39J_YyKbs
After you have worked hard and are ready to take a short break, click on this link and follow the instructions: http://www.donothingfor2minutes.com/
---
Basic Computer User | Advanced Computer User | Health | Humour | Other
---
---
---
America's breadbasket aquifer running dry; massive agriculture collapse inevitable
The Ogallala Aquifer supplies water to America's food bowl but it's running dry. As are many others around the world. http://www.naturalnews.com/031658_aquifer_depletion_Ogallala.html
Check out this 69 year old's workout
After my workout Sunday morning I was giving myself a pat on the back.
100 lunges
100 pushups
30 dips 20 chinups with legs raises
10 burpees with a pushup
60 standing start jumps over various bars
500 other limbering movements

Then I watched this guy's routine!
http://www.youtube.com/user/FritsMB#p/u/8/kV34-Y_KesQ

He's 10 years older than me and leaves me in his dust. :-(
With better abs too!
Room to grow, Tom, room to grow.
The Primal Blueprint
Here's a link to an interesting site for those interested in eating as we used to. If you would like a copy of the book, drop me an email and if enough people are interested I will see about getting some at a cheaper rate than we could obtain them individually. http://www.marksdailyapple.com/
And here's a good synopsis of the rationale of exercising more like our ancient ancestors: http://www.marksdailyapple.com/the-characteristics-of-hunter-gatherer-fitness/
---
Irish caution
Make sure your kilt is short enough to do a jig BUT long enough to hide your Lucky Charms!
---
Quotation from Gandhi
What do you think of modern civilization?
"I think it would be a good idea!"
Reply from Senator A.G. Crowe
Thank you again for your support by joining with me to petition Congress to stop the use of the toxic poison Corexit in the Gulf of Mexico.

Although we are experiencing a huge response from around the world, we need many more folks to make an impact. Please take a moment today to email everyone in your email contact list asking them to go to www.agcrowe.comto join with us.

After reading this post Sarah wrote:
"You know I've been working on different translations the past months, all about absorbents and the ironic thing is I know now of at least 2 absorbents who could have handled the oil spill effectively without any danger whatsoever to either people or the environment.

That makes you really wonder why they use that poison then?

I mean those people who earn on it, they also have to live in this world and breath the same air we breath! Thanks for trying to do something about this!"
Interesting Stats
200 years, 200 countries in 4 minutes. http://www.flixxy.com/200-countries-200-years-4-minutes.htm
Chilling Statement
"in early times, it was easier to to control a million people, literally it was easier to control a million people than physically to kill a million people. Today, it is infinitely easier to to kill a million people than to control a million people. It is easier to kill than to control...." November 17th, 2008, Zbignew Brzezinski, a New World Order architect and a founder of the Rockefeller-controlled Trilateral Commission http://lib.store.yahoo.net/lib/realityzone/UFNbrzezinskicontrolkill.html
Secret copyright treaty derails Australian Internet code
Local internet industry fears "another ACTA debacle". http://www.itnews.com.au/News/250866,secret-copyright-treaty-derails-australian-internet-code.aspx
Quote From The Dalai Lama
The Dalai Lama, when asked what surprised him most about humanity, answered "Man.... Because he sacrifices his health in order to make money. Then he sacrifices money to recuperate his health. And then he is so anxious about the future that he does not enjoy the present; the result being that he does not live in the present or the future; he lives as if he is never going to die, and then dies having never really lived."
Big Earthquake Predicted
An interesting data compilation with predictions https://www.youtube.com/watch?v=r7QAZPb-IEQ And here's the link to the article referred to in the blog video: http://www.life-tabernacle.net/JoeBrandt.html
The Leopard and the Baboon
Daring kill then an unusual twist to the story. http://www.wimp.com/nationalgeographic/
Quotation from Clint Eastwood
"Respect your efforts, respect yourself. Self-respect leads to self-discipline. When you have both firmly under your belt, that's real power."
Japan Nuclear Reactor Drama
Here is a simple explanation for a lay person like me on why we will not have another Chernobyl in Japan. http://bravenewclimate.com/2011/03/13/fukushima-simple-explanation/
Until next time, dream big dreams, read widely, think well of your fellow man, eat food that's good for you and do the important things that make a difference - they are rarely the urgent ones!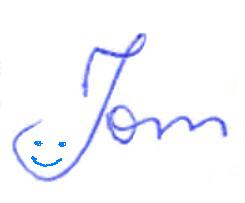 ---
Copyright 2011 by Tom Grimshaw - ALL RIGHTS RESERVED.
Back Issues | Feedback | Subscribe | Unsubscribe
Software Development
Festival Management Software
Free Business Evaluation Questionnaire
Healthy Snacks
How to Defeat Artificially Accelerated Aging and its Degenerative Diseases