Toms Tips, Links and Tidbits Newsletter
Wednesday 9th March 2011
---
G'day,
Hope you are having a great week.
---
Basic Computer User | Advanced Computer User | Health | Humour | Other
---
---
---
Quotation
"One of the biggest tragedies of human civilization is the precedence of chemical therapy over nutrition.

"It's a substitution of artificial therapy over natural, of poisons over food, in which we are feeding people poison in trying to correct the reactions of starvation." - Dr. Royal Lee, Founder of Standard Process whole food supplements - 12 January 1951
Naturally Better
This is a link to Kristen's newsletter: http://naturallybetterbook.com/newsletter-march-2011/
TV Ads Linked to Childhood Obesity
TV is bad for you in so many ways. First it promotes inactivity rather than activity. That is mentally and physically damaging. The more time sitting, the worse your mental and physical health. The rays do you no good and the messages are often less desirable than you would choose let alone being one piece of the jigsaw puzzle of programmed disinformation and mind control. Now the latest research links junk food ads to childhood obesity. http://www.care2.com/greenliving/tv-ads-linked-to-childhood-obesity.html
Must tell you a little story.
My granddaughter Shianne was feeling a bit less than her normal bubbly self yesterday (after a late night the night before). She tripped over her bottom lip a couple of times and did not want to eat lunch. I challenged her to do 100 star jumps, 10 pushups & 10 burpees.
After that she shot straight past enthusiasm and exhilaration and I don't think she slowed until she got up there near action\games.
Now I know that you never feel less than 200% but I thought I'd mention it in case you come across someone who needs a little pick-me-up.
In your best sergeant's voice just practice, "Ten-hut! On 'start', drop down and give me 20! Start!" :-)
Anti-Cancer Dietary Tips
Here is a link to some good data www.naturesaide.com/downloads/Book-of-Cancer-Fighters.doc
Some Healthy Foods to Eat in Spring
Get some into you! http://www.care2.com/greenliving/top-10-superfoods-for-spring.html
Do you want to know what's in your vaccinations?
Monkey brains are an interesting inclusion. http://www.cdc.gov/vaccines/pubs/pinkbook/downloads/appendices/b/excipient-table-1.pdf
Wireless
Some people ask me why, being a software developer, I have cables rather than wireless in my home. Here's one reason:

"A doctor I know set up a local Wi-Fi network in his house so he and his wife could work on their computers without running network cables all over. When he turned on the transmitter for the Wi-Fi, his wife immediately developed arrhythmia. He is a cardiologist so he knows for sure what it was. He turned off the Wi-Fi and her arrhythmia stopped. This increased ill effect of digital signals is most likely due to the sharp edge of the square wave where the differential of the change of the signal approaches infinity." From: http://alternativecancer.us/cancer_essentials.htm
Japan halts vaccines from Pfizer, Sanofi after deaths of four children
"What's clear from all this is that vaccines are great at one thing: Population control." http://www.naturalnews.com/031616_vaccines_Japan.html
---
Dog of a Deal
"We give dogs time we can spare, space we can spare and love we can spare. And in return, dogs give us their all. It's the best deal man has ever made." - M. Facklam
The Koala and the Lizard
A koala was sitting in a gum tree smoking a joint when a little lizard walked past, looked up and said, 'Hey Koala! What are you doing?'

The koala said, 'Smoking a joint, come up and have some.'

So the little lizard climbed up and sat next to the koala where they enjoyed a few joints. After a while the little lizard said that his mouth was 'dry' and that he was going to get a drink from the river.

The little lizard was so stoned that he leaned over too far and fell into the river. A crocodile saw this and swam over to the little lizard and helped him to the side. Then he asked the little lizard, 'What's the matter with you?'

The little lizard explained to the crocodile that he had been sitting with the koala in the tree, smoking a joint, but got too stoned and fell into the river while taking a drink.

The crocodile said that he had to check this out and walked into the rain forest, found the tree where the koala was sitting finishing a joint. The crocodile looked up and said, 'Hey you!'

So the koala looked down at him and said, 'FAR OUT dude...
How much water did you drink!?'
So you think YOU'RE having a bad day?
Bob is a commercial saturation diver for Global Divers in Louisiana.

He performs underwater repairs on offshore drilling rigs.

Below is an E-mail he sent to his sister. She then sent it to radio station 103.5 FM in Indiana, who was sponsoring a worst job experience contest.

Needless to say, she won.

Hi Sue,

Just another note from your bottom-dwelling brother.

Last week I had a bad day at the office. I know you've been feeling down lately at work, so I thought I would share my dilemma with you to make you realize it's not so bad after all.

Before I can tell you what happened to me, I first must bore you with a few technicalities of my job. As you know, my office lies at the bottom of the sea. I wear a suit to the office. It's a wet suit.

This time of year the water is quite cool. So what we do to keep warm is this: We have a diesel powered industrial water heater. This $20,000 piece of equipment sucks the water out of the sea. It heats it to a delightful temperature. It then pumps it down to the diver through a garden hose, which is taped to the air hose.

Now this sounds like a darn good plan, and I've used it several times with no complaints. What I do, when I get to the bottom and start working, is take the hose and stuff it down the back of my wet suit. This floods my whole suit with warm water. It's like working in a Jacuzzi.

Everything was going well until all of a sudden, my butt started to itch. So, of course, I scratched it.

This only made things worse. Within a few seconds my ass started to burn. I pulled the hose out from my back, but the damage was done. In agony I realized what had happened. The hot water machine had sucked up a jellyfish and pumped it into my suit. Now, since I don't have any hair on my back, the jellyfish couldn't stick to it, however, the crack of my ass was not as fortunate.

When I scratched what I thought was an itch, I was actually grinding the jellyfish into the crack of my ass.

I informed the dive supervisor of my dilemma over the communicator. His instructions were unclear due to the fact that he, along with five other divers, were all laughing hysterically. Needless to say, I aborted the dive.

I was instructed to make three agonizing in-water decompression stops totaling thirty-five minutes before I could reach the surface to begin my chamber dry decompression.

When I arrived at the surface, I was wearing nothing but my brass helmet. As I climbed out of the water, the medic, with tears of laughter running down his face, handed me a tube of cream and told me to rub it on my butt as soon as I got in the chamber. The cream put the fire out, but I couldn't shit for two days because my ass was swollen shut.

So, next time you're having a bad day at work, think about how much worse it would be if you had a jellyfish shoved up your ass. Now repeat to yourself, 'I love my job, I love my job, I love my job.' Whenever you have a bad day, ask yourself, is this a jellyfish bad day?

May you NEVER have a jellyfish bad day! !!!!
---
Until next time, dream big dreams, read widely, think well of your fellow man, eat food that's good for you and do the important things that make a difference - they are rarely the urgent ones!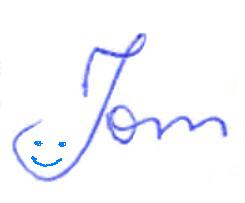 ---
Copyright 2011 by Tom Grimshaw - ALL RIGHTS RESERVED.
Back Issues | Feedback | Subscribe | Unsubscribe
Software Development
Festival Management Software
Free Business Evaluation Questionnaire
Healthy Snacks
How to Defeat Artificially Accelerated Aging and its Degenerative Diseases