Toms Tips, Links and Tidbits Newsletter
Wednesday 9th February 2011
---
G'day,
---
Basic Computer User | Advanced Computer User | Health | Humour | Other
---
---
---
Aloe Vera
Top 10 reasons to drink it http://www.youtube.com/watch?v=ZXPYmQk3l18&NR=1
Combine Broccoli with Chicken and Tomatoes
Read an interesting bit of data on eating broccoli at the same time as chicken. Broccoli contains the cancer preventative sulforaphane. A deficiency in selenium has been linked to many types of cancer. Chicken and Brazil nuts are good sources of selenium. The combination of sulforaphane and selenium apparently gives you 13 times more cancer fighting properties than either one alone. Eating broccoli with tomatoes is also a great combo. Tomatoes contain the antioxidant lycopene which neutralises DNA damaging free radicals while broccoli helps flush carcinogens from the body. http://www.newsmaxhealth.com/headline_health/Reasons_to_Eat_Broccoli/2011/02/07/374837_3.html
---
Why Santa Claus might just be a Vampire.....
1. He's immortal. The guy never changes and he's been around a LOOOONG time.
2. Does his work at NIGHT.
3. Already has a standing invitation to every house with a kid in it.
4. Conviently colored blood red suit. No nasty stains.
5. Obvious shape-shifting abilities. How else does he get down those chimneys?
6. Flies. I'm thinkin the reindeer are just a cute prop.
7. What the heck are those elves if they aren't Renefields?
8. He has totally dissacociated himself from the religious aspects of the season for a reason people. Gotta keep those crosses away.
9. We all know Mom and Dad are really the ones who eat the cookies and drink the milk. So what IS Santa taking from the homes he visits?
10. Have you ever heard of anyone who's actually *seen* Santa on Christmas Eve.... and lived to tell about it?

Think about it.

---
What To Do If Your Internet Access Is Blocked
In other words, how to circumvent suppression of your comm lines. Given recent events in Egypt and proposals in the US, probably good data to know. http://howto.wired.com/wiki/Communicate_if_Your_Government_Shuts_Off_Your_Internet
Inside the Battle to Define Mental Illness
Every so often Al Frances says something that seems to surprise even him. Just now, for instance, in the predawn darkness of his comfortable, rambling home in Carmel, California, he has broken off his exercise routine to declare that "there is no definition of a mental disorder. It's bullshit. I mean, you just can't define it." Then an odd, reflective look crosses his face, as if he's taking in the strangeness of this scene: Allen Frances, lead editor of the fourth edition of the American Psychiatric Association's Diagnostic and Statistical Manual of Mental Disorders (universally known as the DSM-IV), the guy who wrote the book on mental illness, confessing that "these concepts are virtually impossible to define precisely with bright lines at the boundaries." For the first time in two days, the conversation comes to an awkward halt. http://www.wired.com/magazine/2010/12/ff_dsmv/all/1
RSA Animate - Changing Education Paradigms
If you missed this last week please watch this brilliant speech and sensational graphics that a provide powerful message on education http://comment.rsablogs.org.uk/2010/10/14/rsa-animate-changing-education-paradigms/
How To Cuddle an Elephant Seal
A video of an elephant seal who took a liking to a tourist. http://www.youtube.com/watch?v=x_-E6o12vWI
Until next time, dream big dreams, read widely, think well of your fellow man, eat food that's good for you and do the important things that make a difference - they are rarely the urgent ones!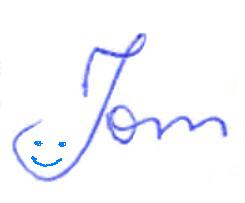 ---
Copyright 2011 by Tom Grimshaw - ALL RIGHTS RESERVED.
Back Issues | Feedback | Subscribe | Unsubscribe
Software Development
Festival Management Software
Free Business Evaluation Questionnaire
Healthy Snacks
How to Defeat Artificially Accelerated Aging and its Degenerative Diseases