Toms Tips, Links and Tidbits Newsletter
Wednesday 29th December 2010
---
G'day,
Hope this finds you fit and well, not carrying too many extra Christmas kilos.
Happy New Year to you!
---
Basic Computer User | Advanced Computer User | Health | Humour | Other
---

AntiMalware Doctor

Helped a friend out when this little nasty struck last week. It's a piece of malware masquerading as anti-virus software. They could not access the internet, programs kept hanging, it took hours for him to fix it. Makes $70 for a good security suite seem paltry by comparison. This is the one I use: http://www.norman.com


---
---
---

My daughter tells me...

I don't want to brag or make anyone jealous or anything,
but I can still fit into the earrings I wore in high school.


---

REPOST: Special ends tomorrow! The BEST Book on Selling I have Ever Read.

Is How To Sell - Clear and Simple by Harry Frisch.

Just received this from a newly graduated lawyer to whom I gave a copy of the book in exchange for some work she did for me:

Hey Tom! I finished that book "How to Sell". What a ripper!
It was really good. Thanks.

Sarah

Because I had read it some years ago and purchased a few, I am entitled to a current "buy one get one free" offer. I passed along Sarah's endorsement and asked if I could extend the buy one, get one free offer to you and Nancy said yes. So if you are looking for a great present for someone in sales (it could even be for you) get along to http://www.HowToSellClearAndSimple.com/order.html. Be sure to use the Promo Code TomsBOGOFO ("Tom's Buy One, Get One Free Offer"). For each copy ordered for $29.95 US (plus S&H), they'll ship you TWO!



How Goal Setting Differs in Men and Women

And what you can do to improve your likelihood of attaining your goals! http://www.webpronewscanada.com/webpronewscanada-35-20101229HowGoalSettingDiffersFromMenToWomen.html


Until next time, dream big dreams, read widely, think well of your fellow man, eat food that's good for you and do the important things that make a difference - they are rarely the urgent ones!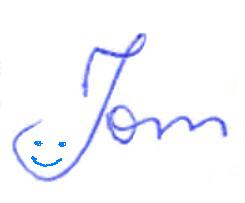 ---
Copyright 2010 by Tom Grimshaw - ALL RIGHTS RESERVED.
Back Issues | Feedback | Subscribe | Unsubscribe
Software Development
Festival Management Software
Free Business Evaluation Questionnaire
Healthy Snacks
How to Defeat Artificially Accelerated Aging and its Degenerative Diseases