Toms Tips, Links and Tidbits Newsletter
Wednesday 1st December 2010
---
G'day,
Hope this first day of the last month of the first year of the second decade of the third millenium finds you fit and well.
Enjoy this week's selection of information morsels and have a great week!
---
Basic Computer User | Advanced Computer User | Health | Humour | Other
---
---
---
---

A Real Man

A plane passed through a severe storm. The turbulence was awful, and things went from bad to worse when one wing was struck by lightning.


One woman lost it completely. She stood up in the front of the plane and screamed, 'I'm too young to die,' she cried. Then she yelled, 'If I'm going to die, I want my last minutes on earth to be memorable! Is there anyone on this plane who can make me feel like a WOMAN?'

For a moment, there was silence. Everyone stared at the desperate woman in the front of the plane. Then the man from Australia stood up in the rear of the plane.

He was handsome, tall, well built, with dark brown hair and hazel eyes. Slowly, he started to walk up the aisle, unbuttoning his shirt as he went, one button at a time. No one moved. He removed his shirt. Muscles rippled across his chest. She gasped...

Then he spoke...

"Iron this will you? Then get me a beer."


---

Trial By Jury

Getting people to insist on their right to trial by jury and making it the rule is the only guaranteed way to prevent tyranny of the populace by those in power.

A judge must find according to the evidence and sentence by law. A jury and only a jury can nullify a bad or oppressive law. A jury and only a jury has the right to acquit a person even if he is guilty of breaking the law. Not something the judiciary or the legislature want known or used. In fact, this knowledge is actively suppressed.

Knowledge is power - spread the word. http://www.youtube.com/watch?v=jT9qKnmBqy0



Guy rescues baby hummingbird...

...after it was attacked. http://www.wimp.com/babyhummingbird/



Living a Quality Life

There's a term which salespeople go by these days. It's called a sales 'professional.'

But my experience with watching salespeople over the years is this term is used very loosely.

Let me explain: If you look at cricket professionals like Ricky Ponting, Mike Hussey or Michael Clarke.

... or Rugby League professionals like Mark Gasnier, Johnathon Thurston or Benji Marshall...

... you will find that they train hard. They go back and watch their plays... they study their competition and they take time to practice, practice, practice...

But how many salespeople do that?

My bet is it would be less than 10%, probably less than 5% and ultimately less than 1% who do it properly.

I believe we as business owners can learn a lot from sports professionals.

For instance, if you are a salesperson (and we all are at one level or another) how much time do you invest...

Reading sales books

Practicing and rehearsing your presentation

Recording your presentations and reflecting on how you could handle them better

Setting up systems to develop stronger relationships etc.

If you aren't doing these things. If you don't have a plan in place to make yourself better in all of the different areas of sales and marketing, then I don't think you can consider yourself a professional.

It's amateurs who train once a week, then rock up for the game and hope for the best.

Not professionals.

But there's some good news in all of this.

If you're not yet a professional and are doing okay right now, what would happen if you turned pro?

Now that's a thought to ponder.

And the first thing you can do right now to turn pro is to work out how to get your clients chasing you rather than you chasing them...

And you'll learn how to do that in the first lesson of http://www.morecustomersmadeeasy.com

All for now,

Scott Bywater


Until next time, dream big dreams, read widely, think well of your fellow man, eat food that's good for you and do the important things that make a difference - they are rarely the urgent ones!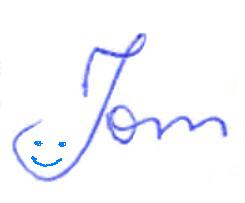 ---
Copyright 2010 by Tom Grimshaw - ALL RIGHTS RESERVED.
Back Issues | Feedback | Subscribe | Unsubscribe
Software Development
Festival Management Software
Free Business Evaluation Questionnaire
Healthy Snacks
How to Defeat Artificially Accelerated Aging and its Degenerative Diseases