Toms Tips, Links and Tidbits Newsletter
Wednesday 3rd November 2010
---
G'day,
Hope this finds you fit and well.
Enjoy this week's selection of information morsels and have a great week!
Until next time, dream big dreams, read widely, think well of your fellow man, eat food that's good for you and do the important things that make a difference - they are rarely the urgent ones!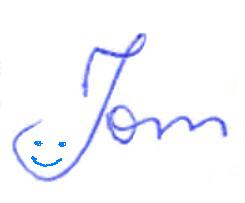 ---
Basic Computer User | Advanced Computer User | Health | Humour | Other
---

Adobe Flash and Reader vulnerability

Adobe has confirmed reports that yet another unpatched vulnerability in the latest versions of its ubiquitous software is being actively exploited to infect end users with data-stealing malware. http://www.theregister.co.uk/2010/10/28/adobe_reader_critical_vuln/



Search engine Blekko to rely on human touch

A small Silicon Valley company with some big name backers will release a test version of a new search engine that the company says has a key ingredient that is missing from Google, the human touch. http://www.itnews.com.au/News/237261,search-engine-blekko-to-rely-on-human-touch.aspx



Buying a Blu-ray Player

As with procuring any new technology, the number of things you need to learn before you buy or upgrade your home electronic devices can be daunting. Blue-ray technology is now the standard for high definition record/playback media. It is increasingly becoming the popular replacement for our ageing DVD player. When Blu-ray players were first released around 2006, these were known as Blu-ray profile 1. Then in late 2007, profile 1.1 was released with picture-in-picture capability which allowed video Bonus View functionality. All players available today should at least be compliant to profile 1.1. The latest profile, 2.0, adds internet capability. This allows for BD-Live feature for on-line based related content. Late last year the new Blu-ray 3D specification was officially announced, however with this you may also consider buying a 3D television...


---
---

Probiotics Useful Other Than Just In The Gut

Apparently probiotics are helpful in alleviating not just gut problems. They are also beneficial in asthma, allergies, eczema and psoriasis as well as boosting the health of your immune system.


---

Charlie Brown Quote

"Sometimes I lie awake at night, and I ask, 'Where have I gone wrong?' Then a voice says to me, 'This is going to take more than one night." Charles M. Schulz



On Memory and Aging

Couple in their nineties are both having problems remembering things. During a checkup, the doctor tells them that they're physically okay, but they might want to start writing things down to help them remember. Later that night, while watching TV, the old man gets up from his chair. 'Want anything while I'm in the kitchen?' he asks.

'Will you get me a bowl of ice cream?'

'Sure.'

'Don't you think you should write it down so you can remember it?' she asks.

'No, I can remember it.'

'Well, I'd like some strawberries on top, too. Maybe you should write it down, so as not to forget it?'

He says, 'I can remember that. You want a bowl of ice cream with strawberries.'

'I'd also like whipped cream. I'm certain you'll forget that. Write it down?' she asks.

Irritated, he says, 'I don't need to write it down, I can remember it! Ice cream with strawberries and whipped cream - I got it, for goodness sakes!'

Then he toddles into the kitchen. After about 20 minutes, the old man returns from the kitchen and hands his wife a plate of bacon and eggs.

She stares at the plate for a moment then asks,
'Where's my toast?'


---

Honda's New Personal Transport Vehicle

I want an airborne one of these! http://www.flixxy.com/honda-u3-x-personal-mobility-device.htm



Spectacular Images

from the Hubble deep-space telescope http://content.techrepublic.com.com/2346-12843_11-476743.html?tag=nl.e098



Murray-Darling Food Basin - The world needs food

The U.N. Food and Agriculture Organization (FAO) estimates that worldwide, 925 million people are undernourished in 2010. It makes the point in its report, The State of Food Insecurity in the World that this is particularly unacceptable, given that prices and weather both improved over the acute year of 2008, when food riots broke out in 25 countries. "The situation has deteriorated since September," said Abdolreza Abbassian of the FAO. "In the last few weeks there have been signs we are heading the same way as in 2008. We may not get to the prices of 2008 but this time they could stay high much longer."

Australia is also impacted: the Australian Food and Grocery Council's State of the Industry 2010 report reveals that for the first time in decades, Australia is a net-importer of manufactured food and groceries; what was a $4.4 billion trade surplus in 2004-05 has collapsed to a $1.8 billion deficit in 2009-10.

Citizens Electoral Council leader Craig Isherwood today slammed the plan to shut down food production in the Murray-Darling Basin:

"Shutting down Australia's food bowl, which feeds 60 million people here and overseas, is genocide—British genocide," he said. "The world needs our food; the world needs us to expand our food production, but instead we are letting Prince Philip smash our food bowl, through his Australian Conservation Foundation (ACF), and his World Wide Fund for Nature (WWF) and its front, the Wentworth Group.

"Their announced purpose is global genocide, reducing the world's population down to a few billion, and in the case of Australia, to just six million. What the British Empire did in the 19th century to Ireland, India and China, when 85 million people perished under the free trade and Malthusian policies of Queen Victoria, Queen Elizabeth's consort seeks to do on a global scale."

Mr Isherwood concluded, "Australia must act for humanity. It is time to stop being a British colony, and assert our own sovereignty, so that our nation functions for the common good of the people. We must expand production in the Murray-Darling Basin, by building infrastructure such as the Clarence River Scheme that can inject more water into the system. We must develop Northern Australia, as a food bowl that can feed well over 100 million people, through engineering ideas such as the Bradfield Scheme in Queensland and the Fitzroy River Scheme in Western Australia."

More data in a report by Robert Barwick: http://cecaust.com.au/main.asp?sub=media&id=/video/20101030_cec_wr%20.htm


---
Copyright 2010 by Tom Grimshaw - ALL RIGHTS RESERVED.
Back Issues | Feedback | Subscribe | Unsubscribe
Software Development
Festival Management Software
Free Business Evaluation Questionnaire
Healthy Snacks
How to Defeat Artificially Accelerated Aging and its Degenerative Diseases