Toms Tips, Links and Tidbits Newsletter
Wednesday 29th September 2010
---
G'day,
Hope this finds you fit and well.
Enjoy this week's selection of information morsels and have a great week!
Until next time, dream big dreams, read widely, think well of your fellow man, eat food that's good for you and do the important things that make a difference - they are rarely the urgent ones!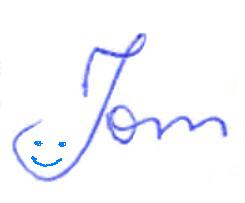 ---
Basic Computer User | Advanced Computer User | Health | Humour | Other | Videos
---
---
---

FDA picking on cherry growers

The FDA is picking on cherry growers for mentioning peer-reviewed studies about how cherries are far better than NSAIDS in controlling pain and inflammation. The issue is nicely summarized by the Dr. Rath Health Foundation: "The survival of the pharmaceutical industry is dependent on the elimination by any means of effective natural health therapies. These natural and non-patentable therapies have become the treatment of choice for millions of people, despite the combined economic, political and media opposition of the world's largest investment industry."



Could This be the Key Factor Spiking the Rise in Dementia and Alzheimer's?

Large doses of B vitamins can halve the rate of brain shrinkage in elderly people with memory problems. It may slow their progression toward dementia. http://articles.mercola.com/sites/articles/archive/2010/09/28/high-doses-of-b-vitamins-can-reduce-brain-shrinkage-memory-loss.aspx


---
---

Bad medicine

I've just signed a petition at Avaaz.org. Please check out the link below and join me in signing.

Here's the original email:

This week, the world's wealthiest governments are negotiating a secretive deal that could cut off poor people from life-saving medicines. Millions rely on generic medicines to treat diseases like malaria and HIV. If this agreement goes forward, many peoples' access to such drugs could be cut off, leaving those unable to afford name-brand medications to face death.

The treaty would set rules on "intellectual property" in a wide range of areas -- from genetically modified crops to online file-sharing to drug patents. But four fifths of the world's countries are excluded from the talks -- including India and China. The negotiating governments are trying to rush through an agreement before public outcry can become too loud to ignore -- but word is leaking out, and a tide of opposition is rising.

Our voices can tip this outrage over the edge. Public pressure has stopped unjust trade talks in previous years. Now, we can again ensure that no rotten deals are struck behind closed doors. Join the petition now for an open process and justice on essential medicines -- Avaaz and partners will deliver it at next week's negotiations in Tokyo if we reach 50,000 signers. Sign now and spread the word: http://www.avaaz.org/en/acta/98.php?CLICKTF

The so-called Anti-Counterfeiting Trade Agreement had been intentionally kept out of the public spotlight. But no longer: public health and internet freedom advocates are sounding the alarm, and China, India, and the European Parliament have all spoken out against it in recent weeks.

The proposed deal raises many concerns, but its most outrageous provision is its treatment of essential medicines. ACTA would treat many "generic" and "counterfeit" drugs identically, making cheap competition for name-brands subject to the same seize-and-destroy tactics applied to fake medicines.

Pharmaceutical giants claim that this is needed to protect consumer safety -- but they themselves sell generic versions of medicines whose patents have expired. Generic medicines, which are often 90% less expensive, are not inherently more or less safe than name-brand drugs. The real differences are drug company profits -- and poor people's lives.

Mass citizen mobilisation has stopped similar moves by drug companies and rich country governments several times before. Let's not allow a few countries to decide the fate of billions behind closed doors -- sign the petition and spread the word:
http://www.avaaz.org/en/acta/98.php?CLICKTF

Getting treatment when we are sick is something we all feel strongly about. Our vigilance this week can help fend off attempts to prevent medicines from reaching all who need them. Together, right now, we can begin to build a future in which each of us can equally overcome disease and stay healthy.

With hope for a better world,

Ben, Alex, David, Maria Paz, Iain and the whole Avaaz team

SOURCES:

European Parliament passes anti-ACTA declaration: http://arstechnica.com/tech-policy/news/2010/09/european-parliament-passes-anti-acta-declaration.ars

Threat to online free expression from imminent international accord: http://en.rsf.org/threat-to-online-free-expression-25-01-2010,36198

EU, US Consumer Groups Issue Resolution On Enforcement; Demand Role In ACTA: http://www.ip-watch.org/weblog/2009/06/23/eu-us-consumer-groups-issue-resolution-on-enforcement-demand-role-in-acta/

IP Enforcement through Anti-Counterfeit Laws: The ACTA Negotiations and Their Implications: http://www.southcentre.org/index.php?option=com_content&view=article&id=1355:sb49&catid=144:south-bulletin-individual-articles&Itemid=287?=e

More ACTA talks this week: http://techdailydose.nationaljournal.com/2010/09/more-acta-talks-this-week.php

Bitkom Blasts ACTA: hhttp://www.techeye.net/internet/bitkom-blasts-acta http://www.avaaz.org/en/acta/98.php?CLICKTF


---
---
Copyright 2010 by Tom Grimshaw - ALL RIGHTS RESERVED.
Back Issues | Feedback | Subscribe | Unsubscribe
Software Development
Festival Management Software
Free Business Evaluation Questionnaire
Healthy Snacks
How to Defeat Artificially Accelerated Aging and its Degenerative Diseases