Toms Tips, Links and Tidbits Newsletter
Wednesday 15th September 2010
---
G'day,
Hope this finds you fit and well.
Enjoy this week's selection of information morsels and have a great week!
Until next time, dream big dreams, read widely, think well of your fellow man, eat food that's good for you and do the important things that make a difference - they are rarely the urgent ones!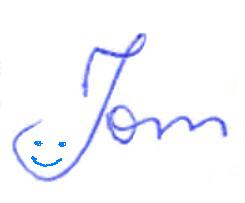 ---
Basic Computer User | Advanced Computer User | Health | Humour | Other | Videos
---
---
---

Antioxidants Kick Risk Factors, Take Names!

Read today of an experiment in Israel on 70 subjects with an average age of 62, all of whom had at least TWO of these cardiovascular risk factors: cigarette smoking, type 2 diabetes, high blood pressure, low HDL (good) cholesterol, or high triglycerides. The control group received placebos while the others were given the following antioxidants daily: 1,000mg Vitamin C, 400 IU Vitamin E, 200mcg Selenium and 120mg of CoQ10.

In the antioxidant group, overall blood pressure was reduced, large and small artery elasticity increased significantly, HDL (good) cholesterol increased significantly and HbA1C (a measure of high blood sugar) declined significantly. And triglycerides declined a little.


---

For The Golfers

Ed and Dorothy met while on a singles cruise and fell head over heels for her. When they discovered they lived in the same city only a few miles apart, Ed was ecstatic. He immediately started asking her out when they got home.

Within a couple of weeks, Ed had taken Dorothy to dance clubs, restaurants, concerts, movies, and museums. Ed became convinced that Dorothy was indeed his soul mate and true love. Every date seemed better than the last.

On the one-month anniversary of their first dinner on the cruise ship, Ed took Dorothy to a fine restaurant. While having cocktails and waiting for their salad, Ed said, "I guess you can tell I'm very much in love with you. I'd like a little serious talk before our relationship continues to the next stage. So, before I get a box out of my jacket and ask you a life changing question, it's only fair to warn you, I'm a total golf nut. I play golf, I read about golf, I watch golf on TV. In short, I eat, sleep, and breathe golf. If that's going to be a problem, for us, you'd better say so now!"

Dorothy took a deep breath and responded, "Ed, that certainly won't be a problem. I love you as you are and I love golf too; but, since we're being totally honest with each other, you need to know that for about the last five years I've been a hooker."

"I see," Ed replied thoughtfully. He looked down at the table, and was quiet for a moment, deep in serious thought then he added, "You know, it's probably because you're not keeping your wrists straight when you hit the ball."


---
---
---
Copyright 2010 by Tom Grimshaw - ALL RIGHTS RESERVED.
Back Issues | Feedback | Subscribe | Unsubscribe
Software Development
Festival Management Software
Free Business Evaluation Questionnaire
Healthy Snacks
How to Defeat Artificially Accelerated Aging and its Degenerative Diseases