Toms Tips, Links and Tidbits Newsletter
Wednesday 8th September 2010
---
G'day,
Hope this finds you fit and well.
Enjoy this week's selection of information morsels and have a great week!
Until next time, dream big dreams, read widely, think well of your fellow man, eat food that's good for you and do the important things that make a difference - they are rarely the urgent ones!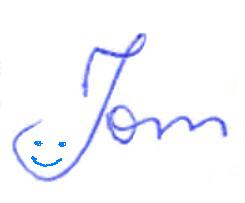 ---
Basic Computer User | Advanced Computer User | Health | Humour | Other | Videos
---
---

Imitation - Flattering and Deadly

Imitation may be the most sincere form of flattery but in the online world, it can take steal your revenue. To check for sites copying your web pages, use Copyscape. It will scan for duplicates of your material:http://www.copyscape.com/


---

Vaccination Choices and What You are NOT Being told about SIDS

Discover what you can do that has been proven to be 100% successful in preventing SIDS. Stephanie has been researching the vaccination issue for 30 years and SIDS for over 10 years. As a passionate advocate for allowing the body to work well naturally, she would like to share with you some of the information that is not readily available from the medical profession, Government or the media. Stephanie has raised 3 healthy children, vaccination free, and with no childhood diseases. She will help you discover you can do the same!
The cost at all venues is $20 for couples and $15 for singles. This includes a 78 page booklet about vaccination plus other handouts.


---

Wollongong Venue: Wollongong Baha'i Centre - Cnr Bellambi Lane & Princes Hwy, Russell Vale (opp Ten Pin Bowling)
Date: Wednesday evening 8th September, 2010
Time: 7 - 9pm
Book: Phone (02) 4284 6143 or email growingawareness@hotmail.com


---

Canberra Venue: Hall in Belconnen will be advised when you book
Date: Thursday September 9th 2010
Time 7 - 9pm
Book: Phone Jenny on 0408 233 436 or email growingawareness@hotmail.com


---

Melbourne Venue: 282 Richardson Street, Middle Park, Melbourne, Victoria
Date: Saturday afternoon, 11th September, 2010
Time: 2 - 4pm
Book: Phone (03) 9682-8866 or email growingawareness@hotmail.com



Is There An Honest Drug Company Left?

Or is that term becoming an oxymoron? Johnson & Johnson being sued for drug conspiracy http://www.naturalnews.com/029669_J&J_conspiracy.html


---

HOW IS NORMA?

A sweet grandmother telephoned St. Joseph 's Hospital.

She timidly asked, "Is it possible to speak to someone who can tell me how a patient is doing?"

The operator said, "I'll be glad to help, dear. What's the name and room number of the patient?"

The grandmother in her weak, tremulous voice said, "Norma Findlay, Room 302."

The operator replied, "Let me put you on hold while I check with the nurse's station for that room."

After a few minutes, the operator returned to the phone and said, "I have good news. Her nurse just told me that Norma is doing well. Her blood pressure is fine; her blood work just came back normal and her physician, Dr. Cohen, has scheduled her to be discharged tomorrow."

The grandmother said, "Thank you. That's wonderful. I was so worried... ...God bless you for the good news."

The operator replied, "You're more than welcome. Is Norma your daughter?"

The grandmother said, "No, I'm Norma Findlay in Room 302. No one tells me shit."

TRUE STORY !!!!


---

The story of "Thank You"

A young man learns what's most important in life from the guy next door.

It had been some time since Jack had seen the old man. College, girls, career, and life itself got in the way. In fact, Jack moved clear across the country in pursuit of his dreams.

There, in the rush of his busy life, Jack had little time to think about the past and often no time to spend with his wife and son. He was working on his future, and nothing could stop him.

Over the phone, his mother told him, "Mr. Belser died last night. The funeral is Wednesday." Memories flashed through his mind like an old newsreel as he sat quietly remembering his childhood days.

"Jack, did you hear me?"

"Oh, sorry, Mom... ...yes, I heard you. It's been so long since I thought of him. I'm sorry, but I honestly thought he died years ago," Jack said.

"Well, he didn't forget you. Every time I saw him he'd ask how you were doing. He'd reminisce about the many days you spent over 'his side of the fence' as he put it," Mom told him.

"I loved that old house he lived in," Jack said.

"You know, Jack, after your father died, Mr. Belser stepped in to make sure you had a man's influence in your life," she said.

"He's the one who taught me carpentry," he said. "I wouldn't be in this business if it weren't for him. He spent a lot of time teaching me things he thought were important... ...Mom, I'll be there for the funeral," Jack said.

As busy as he was, he kept his word. Jack caught the next flight to his hometown. Mr. Belser's funeral was small and uneventful. He had no children of his own, and most of his relatives had passed away.

The night before he had to return home, Jack and his Mom stopped by to see the old house next door one more time.

Standing in the doorway, Jack paused for a moment. It was like crossing over into another dimension, a leap through space and time The house was exactly as he remembered. Every step held memories. Every picture, every piece of furniture... ...Jack stopped suddenly.

"What's wrong, Jack?" his Mom asked.

"The box is gone," he said

"What box?" Mom asked.

"There was a small gold box that he kept locked on top of his desk. I must have asked him a thousand times what was inside. All he'd ever tell me was "the thing I value most,'" Jack said.

It was gone. Everything about the house was exactly how Jack remembered it, except for the box. He figured someone from the Belser family had taken it.

"Now I'll never know what was so valuable to him," Jack said. "I better get some sleep. I have an early flight home, Mom."

It had been about two weeks since Mr. Belser died Returning home from work one day Jack discovered a note in his mailbox. "Signature required on a package. No one at home. Please stop by the main post office within the next three days," the note read.

Early the next day Jack retrieved the package. The small box was old and looked like it had been mailed a hundred years ago. The handwriting was difficult to read, but the return address caught his attention. "Mr. Harold Belser" it read. Jack took the box out to his car and ripped open the package. There inside was the gold box and an envelope. Jack's hands shook as he read the note inside.

"Upon my death, please forward this box and its contents to Jack Bennett. It's the thing I valued most in my life." A small key was taped to the letter. His heart racing, as tears filling his eyes, Jack carefully unlocked the box. There inside he found a beautiful gold pocket watch.

Running his fingers slowly over the finely etched casing, he unlatched the cover. Inside he found these words engraved:

"Jack, Thanks for your time! -Harold Belser."

"The thing he valued most was... ...my time"

Jack held the watch for a few minutes, then called his office and cleared his appointments for the next two days. "Why?" Janet, his assistant asked.

"I need some time to spend with my son," he said.

"Oh, by the way, Janet, thanks for your time!"

"Life is not measured by the number of breaths we take but by the moments that take our breath away."

Think about this. You may not realize it, but it's 100% true.

1. At least 2 people in this world love you so much they would die for you.

2. At least 15 people in this world love you in some way.

3. A smile from you can bring happiness to anyone, even if they don't like you.

4. Every night, SOMEONE thinks about you before they go to sleep.

5. You mean the world to someone.

6. If not for you, someone may not be living.

7. You are special and unique.

8. When you think you have no chance of getting what you want, you probably won't get it, but if you trust God to do what's best, and wait on His time, sooner or later, you will get it or something better.

9. When you make the biggest mistake ever, something good can still come from it.

10. When you think the world has turned its back on you, take a look: you most likely turned your back on the world.

11. Someone that you don't even know exists loves you.

12. Always remember the compliments you received. Forget about the rude remarks.

13. Always tell someone how you feel about them; you will feel much better when they know and you'll both be happy.

14. If you have a great friend, take the time to let them know that they are great.

Send this letter to all the people you care about, if you do so, you will certainly brighten someone's day and might change their perspective on life... ...for the better.

To everyone I sent this to, "Thanks for your time".



If You've 30 Seconds To Help Make A Difference...

I have just read and signed the petition: "End Military Hazing in Russia". Please take a moment to read about this important issue and join me in signing the petition. It takes just 30 seconds, but can truly make a difference. We are trying to reach 40,000 signatures - please sign here: http://www.thepetitionsite.com/takeaction/440/386/263/


---
---
Copyright 2010 by Tom Grimshaw - ALL RIGHTS RESERVED.
Back Issues | Feedback | Subscribe | Unsubscribe
Software Development
Festival Management Software
Free Business Evaluation Questionnaire
Healthy Snacks
How to Defeat Artificially Accelerated Aging and its Degenerative Diseases