Toms Tips, Links and Tidbits Newsletter
Wednesday 25th August 2010
---
G'day,
Hope this finds you fit and well.
Enjoy this week's selection of information morsels and have a great week!
Until next time, dream big dreams, read widely, think well of your fellow man, eat food that's good for you and do the important things that make a difference - they are rarely the urgent ones!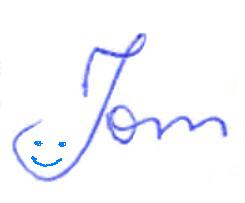 ---
Basic Computer User | Advanced Computer User | Health | Humour | Other | Videos
---
---
---

Jailed psychiatrist pleads guilty - CNBC

Psychiatrist doing clinical drug trials for Glaxo pleads guilty in fraud regarding clinical trials of Paxil on kids, "with intent to defraud and mislead in connection with those clinical trials" and sentenced to 13 months in prison. THAT sentence runs concurrent with her current 87-month prison term for health care fraud. http://www.cnbc.com/id/38783181



Financial Incentives Force Misdiagnosing?

Doctors are being pressured to diagnose children with behaviour disorders to get them extra assistance in schools, labelling many with diseases they probably don't have, researchers warn from NSW. http://www.smh.com.au/nsw/children-wrongly-diagnosed-20100821-139p6.html


Data on Magnesium
Just wanted to share with you an interesting story.
There's hardly a week goes past that I don't get some form of validation of the health benefits of the ingredients in my food bars.
This week it was from an octogenarian who has been staying with us from interstate. He needed to have a blood pressure test done and to his surprise it was 170 over I forget. (Probably because he walked to the doctor's surgery. This guy still regularly jogs and also roller blades! At 81!) He asked me (I am getting a reputation as a "go to person" for natural health information) what foods could be taken to help with that condition.
I did a bit of research and found that high blood pressure is often a symptom of low magnesium levels. We then searched for the foods highest in magnesium and a large number of them (Buckwheat Seeds, Caraway Seeds, Chia Seeds, Flaxseed\Linseed, Pepitas (Pumpkin seeds), Sesame Seeds, Sunflower Seeds, Almonds, Brazil Nuts, Cashew Nuts, Hazelnuts, Macadamia Nuts, Peanuts, Pecans, Pinenuts, Pistachio Nuts and Walnuts) are in my Nutrition Booster Bar!
I put 50 grams of pumpkin seeds into a container for him to snack on and he went on his way. Next blood pressures test was 130 over 66 - unheard of for someone his age! Now to be fair, not walking to the surgery before the second blood test probably had far more to do with the lower reading than one day of eating pumpkin seeds, but it did reinforce in my mind the value of getting a wide variety of foods into my diet.
After I wrote the above I received one of my many daily health emails talking about what they described as The Mighty Powers of Magnesium. I will quote a few references from it for you.
According to findings published in The Journal of Intensive Care Medicine, magnesium deficiency makes you twice as likely to die
Deficiency of magnesium causes anxiety, diabetes and heart disease
80% of Americans are deficient in magnesium
"Magnesium deficiency triggers 22 conditions," says Dr. Carolyn Dean, M.D.
Magnesium triggers over 300 enzyme reactions and is present in all bodily tissues
Your cells use magnesium to make energy and stabilize membranes
Magnesium is essential to many vital bodily functions
Magnesium deficiency has been linked to migraines, inflammation, and high CRP* levels.
Highly processed foods contain little magnesium
Dairy and simple carbohydrates like white flour and pasta have no magnesium at all
Alcohol, salt, cola, and coffee all reduce magnesium levels in the body
Seeds and nuts are good sources of magnesium, as are leafy green veggies and shrimp
* CRP is C-Reactive Protein, an indicator of inflammation in the body. Inflammation is one of the five factors involved in nearly all degenerative diseases.
---

WORST FIRST DATE STORY EVER

If you didn't see this on the Tonight show, I hope you're sitting down when you read it. This is probably the funniest date story ever, first date or not!!! We have all had bad dates but this takes the cake.

Jay Leno went into the audience to find the most embarrassing first date that a woman ever had. The winner described her worst first date experience. There was absolutely no question as to why her tale took the prize!

She said it was midwinter...Snowing and quite cold... and the guy had taken her skiing in the mountains outside Salt Lake City, Utah.

It was a day trip (no overnight). They were strangers, after all, and had never met before. The outing was fun but relatively uneventful until they were headed home late that afternoon.

They were driving back down the mountain, when she gradually began to realize that she should not have had that extra latte. They were about an hour away from anywhere with a rest room and in the middle of nowhere! Her companion suggested she try to hold it, which she did for a while. Unfortunately, because of the heavy snow and slow going, there came a point here she told him that he had better stop and let her go beside the road, or it would be the front seat of his car.

They stopped and she quickly crawled out beside the car, yanked her pants down and started. In the deep snow she didn't have good footing, so she let her butt rest against the rear fender to steady herself. Her companion stood on the side of the car watching for traffic and indeed was a real gentleman and refrained from peeking. All she could think about was the relief she felt despite the rather embarrassing nature of the situation.

Upon finishing however, she soon became aware of another sensation. As she bent to pull up her pants, the young lady discovered her buttocks were firmly glued against the car's fender. Thoughts of tongues frozen to poles immediately came to mind as she attempted to disengage her flesh from the icy metal. It was quickly apparent that she had a brand new problem, due to the extreme cold. Horrified by her plight and yet aware of the humour of the moment, she answered her date's concerns about' what is taking so long' with a reply that indeed, she was 'freezing her butt off' and in need of some assistance! He came around the car as she tried to cover herself with her sweater and then, as she looked imploringly into his eyes, he burst out laughing. She too, got the giggles and when they finally managed to compose themselves, they assessed her dilemma. Obviously, as hysterical as the situation was, they also were faced with a real problem.

Both agreed it would take something hot to free her chilly cheeks from the grip of the icy metal! Thinking about what had gotten her into the predicament in the first place, both quickly realized that there was only one way to get her free. So, as she looked the other way, her first time date proceeded to unzip his pants and pee her butt off the fender.

As the audience screamed in laughter, she took the Tonight Show prize hands down. Or perhaps that should be 'pants down. 'And you thought your first date was embarrassing. Jay Leno's comment...'This gives a whole new meaning to being pissed off.'

Oh and how did the first date turn out? He became her husband and was sitting next to her on the Leno show.


---
---
---
Copyright 2010 by Tom Grimshaw - ALL RIGHTS RESERVED.
Back Issues | Feedback | Subscribe | Unsubscribe
Software Development
Festival Management Software
Free Business Evaluation Questionnaire
Healthy Snacks
How to Defeat Artificially Accelerated Aging and its Degenerative Diseases