Toms Tips, Links and Tidbits Newsletter
Wednesday 18th August 2010
G'day,
Hope this finds you fit and well.
My grandkids are astounding! 5 year old Jaylen ran 40 x 300 meter laps - 12 kilometers! at the school jogathon Friday. 6 year old Shianne ran 50 laps - 15 kilometers! Awesome effort kids!
Enjoy this week's selection of information morsels and have a great week!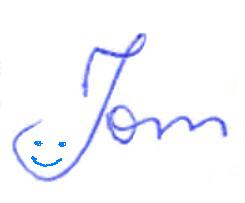 ---
Basic Computer User | Advanced Computer User | Health | Humour | Other | Videos
---
---
---

My Book on How to Dodge the Bullet of Degenerative Diseases

As you progress through life there are various risks you face. Despite your best efforts, your body will die. After all, nobody gets out of this alive. Eventually you will get the bullet with your name on it. But your choices have a lot to do with when that bullet will come and in what form it comes and how long the period of illness and pain you suffer before the lights go out.
Degenerative diseases are things like stroke, cancer, heart disease etc. These are nearly entirely lifestyle and diet related. Big call, I know. But even the cancer societies now admit that cancer is at least 85% due to factors under your control and half of the risk is diet related.
So with all the data available, where do you start to learn what you should be doing?
There is a lot of anti-aging and health related data on the internet.
Some of it is true, some of it is one person's or many people's opinion presented as fact.
Some of it is outright lies - false data presented as true by a person or group with a vested interest.
Some of it is partially true or a qualified truth - that which works for one is presented as the solution for all.
Some of it is presented as a broad truth - it is not correctly labelled as a partial or incomplete or qualified truth.
Rarely is the data arranged in an aligned and coordinated presentation.
Some of it is couched in medical language using biology or chemistry terms such that it slows progress to a standstill.
And then there is the sheer volume of data - that can be so daunting that it has prevented many from even starting.

All of the above makes for heavy going for anyone trying to learn about how to best run a body.

But not knowing how to best run a body is killing more and more people every year from totally avoidable, degenerative diseases.

I do not want that to happen to you. I would like to rectify our collective, lemming-like rush to personal self-destruction. I would like to offer you the opportunity to obtain the most comprehensive, logically sequenced, aligned and coordinated single volume of data on Anti-Aging Strategies to Defeat Degenerative Disease. http://www.DefeatDegenerativeDisease.com



August special, receive a FREE Lotus Sanitiser and pay $10 shipping with any Alkaliser purchase

I use an Alkaway water purifier and alkaliser. I received this from them: "For 2 weeks only with the purchase of any electronic water alkaliser receive a FREE Lotus Food and Home Sanitising System valued at $250. And because we are feeling extra generous you will ONLY pay a $10 flat shipping any where in Australia." (Please note, if you click on this link and purchase something from their site they may pay me a commission.) https://alkaway.infusionsoft.com/go/ahp/AlkTom



Kristen Morrison's Newsletter

Accolades, ideas and a special price on the book every parent should have. http://naturallybetterbook.com/newsletter-august-2010/



Pharma tactic phoney: Carr

Wow! Even the pollies are aboard! Albeit ex-polly. http://www.smh.com.au/nsw/pharma-tactic-phoney-carr-20100814-1242b.html



WHO list reveals flu advisors with industry ties

Five of the 15 experts that advised the World Health Organisation about swine flu pandemic alerts had received support from the drugs industry, including for flu vaccine research, the WHO revealed on Wednesday. http://www.google.com/hostednews/afp/article/ALeqM5ifwZFBD8rvvsxIpb_Q0q8AAKjOKQ


---
---

Out of Whack Planetary System Offers Clues to a Disturbed Past

One could browse this collection of images for a while! http://hubblesite.org/newscenter/archive/releases/2010/17/



Historic Russian Seed Bank Faces Destruction

Ninety percent of the more than 5,000 varieties of berries and fruit seed at the Vavilov Research Institute of Plant Industry seed bank in Leningrad, Russia are found in no other seed bank or plant research center in the world. During WW II, with Leningrad under siege, twelve scientists protecting the seed bank's valuable specimens starved to death, unwilling to eat the rare seeds. Read more here: http://www.care2.com/causes/real-food/blog/historic-russian-seed-bank-faces-destruction/ Sign the petition here: http://www.thepetitionsite.com/takeaction/727/967/951/?z00m=19875308



Hidden Intelligence Operation Behind the Wikileaks Release of "Secret" Documents?

Since the dramatic release of a US military film of a US airborne shooting of unarmed journalists in Iraq, Wiki-Leaks has gained global notoreity and credibility as a daring website that releases sensitive material to the public from whistleblowers within various governments. http://is.gd/efcX5



iPhone "Death Grip" Tests

It's not a US only issue... http://www.zdnet.com.au/iphone-death-grip-down-under-339305181.htm



How To Vote Card

If you wish to vote for an independent without giving your preferences to any of the liberal, labour or green traitors just put a number 1 in the box of your chosen candidate and a black ballpoint line through both the name and the box of all but the candidate for whom you are voting. A screenshot of how this should look is at the end of this video: http://www.youtube.com/watch?v=seOBrpvbB74


---
---
Copyright 2010 by Tom Grimshaw - ALL RIGHTS RESERVED.
Back Issues | Feedback | Subscribe | Unsubscribe
Software Development
Festival Management Software
Free Business Evaluation Questionnaire
Healthy Snacks
How to Defeat Artificially Accelerated Aging and its Degenerative Diseases