Toms Tips, Links and Tidbits Newsletter
Wednesday 11th August 2010
G'day,
Hope this finds you fit and well.
Enjoy this week's selection of information morsels and have a great week!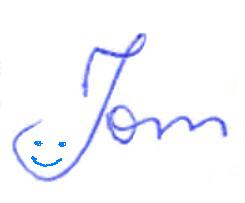 ---
Basic Computer User | Advanced Computer User | Health | Humour | Other | Videos
---
---
---
---

Bill Cosby says:

Human beings are the only creatures that allow their children to come back home.



Nothing going right?

A little guy is sitting at the bar staring at his drink when a large, trouble-making biker steps up next to him, grabs his drink and gulps it down in one swig.

"Well, whatcha gonna do about it?" he says, menacingly.

The little guy bursts into tears.

"Come on, man," the biker says, " I didn't think you'd CRY. I can`t stand to see a man crying."

"This is the worst day of my life," says the little guy.

"I am a complete failure. I was late to a meeting,and my Boss fired me. When I went to the car park, I found my car stolen and I don't have any insurance, I left my wallet in the cab I took home. I found my wife in bed with the milk man and then my dog bit me.

"So I came to this bar to work up the courage to put an end to it all. I buy a drink, drop the capsule in it and while I sit here watching the poison dissolve a smart ass like you shows up and downs my drink! I can't do ANYTHING right!"


---

A Motion Containing Jigsaw Puzzle

Great for kids, young and old! http://www.brl.ntt.co.jp/people/hara/fly.swf



Quote from Albert Einstein:

"The world is a dangerous place. Not because of the people who are evil, but because of the people who don't do anything about it."



A Great Article on Economic (mis)-Management

Gareth has some wise words that are very worthwhile reading http://performiaau.wordpress.com/2010/08/02/performia-australia-which-australian-prime-minister-would-add-the-most-value-running-your-business/



ACMA approves in-flight mobile use

Airline passengers to get mobile roaming in the air. http://www.itnews.com.au/News/221450,acma-approves-in-flight-mobile-use.aspx



Google-Verizon unveil net neutrality proposal

Google and Verizon released a joint net neutrality proposal yesterday outlining rules to protect content providers from discrimination by carriers. http://www.itnews.com.au/News/224107,google-verizon-unveil-net-neutrality-proposal.aspx



Resale Royalty Scheme

Under the Resale Royalty Right for Visual Artists Act 2009, visual artists are eligible to receive five per cent of the sale price when their original works over $1000 are resold through the art market. The scheme covers original works of art, such as a painting, a collage, a drawing, a print, a sculpture, a ceramic, an item of glassware or a photograph. The scheme is only applied prospectively, meaning that royalty rights only apply to resales where the seller has acquired the work after 2 June 2010. To find out more, please visit: http://www.arts.gov.au/artists/resale_royalty



Help stop the sex trafficking trade

"My daughter Oxana was a beautiful, wonderful girl, gifted in languages. She left our home when she was 20 to take her dream job as a translator in Europe. We were so happy for her. Three weeks later the police told us she died falling from a 5th story window, trying to escape men who fooled her with the job and forced her into a sex club. I died when she died. Now I live only to stop this from happening to other girls. Please, help me." http://www.avaaz.org/en/russia_rape_trade_putin_6/?vl


---
---
Copyright 2010 by Tom Grimshaw - ALL RIGHTS RESERVED.
Back Issues | Feedback | Subscribe | Unsubscribe
Software Development
Festival Management Software
Free Business Evaluation Questionnaire
Healthy Snacks
How to Defeat Artificially Accelerated Aging and its Degenerative Diseases