Toms Tips, Links and Tidbits Newsletter
Wednesday 4th August 2010
G'day,
Hope this finds you fit and well.
Enjoy this week's selection of information morsels and have a great week!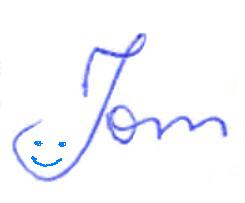 ---
Basic Computer User | Advanced Computer User | Health | Humour | Other | Videos
---
---
---

This 10 minute video of 87 year old Charlotte Gerson will inspire you

I hope to be that mentally agile if this body survives to that age! http://www.renegadehealth.com/gersontapes/special/index-2.html

If you want to get an encyclopediac 243 pages of anti-aging tips head over to http://www.DefeatDegenerativeDisease.com



Dr Mercola posted a health tip

"Before taking any medication, ask yourself this fundamental question: do the benefits outweigh the risks?" I thought of another you could ask, "Is there a food or herb that has the same or a similar action WITHOUT the down sides?" Or yet another, even better one, "What lifestyle change would I have to effect to not have the problem?" OR you could even go the whole... hog and ask, "Am I willing to sacrifice my money and potentially my life to drug side effects by giving drug companies control over my health, or lack of it, or am I prepared to take responsibility for my own health and educate myself and alter my lifestyle to attain optimal health?"

I know, pretty heavy for pre 7:00am on a Saturday morning.

But you know what?

The people you leave behind think that your premature death is pretty heavy too.

Your call.



Vaccinations

Here's another reason to fully inform yourself of the dangers of vaccination that your doctor may fail to tell you http://iansvoice.org/default.aspx


---

50 bucks is 50 bucks!

Buddy and his wife Edna went to the state fair every year and every year Buddy would say, "Edna, I'd like to ride in that helicopter."

Edna always replied, "I know Buddy, but that helicopter ride is fifty bucks, and fifty bucks is fifty bucks!"

One year Buddy and Edna went to the fair, and Buddy said, "Edna, I'm 85 years old. If I don't ride that helicopter, I might never get another chance!"

To this, Edna replied, "Buddy that helicopter ride is fifty bucks, and fifty bucks is fifty bucks!"

The pilot overheard the couple and said, "Folks I'll make you a deal. I'll take the both of you for a ride. If you can stay quiet for the entire ride and don't say a word I won't charge you a penny! But if you say one word it's fifty dollars."

Buddy and Edna agreed and up they went. The pilot did all kinds of fancy maneuvers, but not a word was heard. He did his daredevil tricks over and over again, but still not a word...

When they landed, the pilot turned to Buddy and said, "By golly, I did everything I could to get you to yell out, but you didn't. I'm impressed!"

Buddy replied, "Well, to tell you the truth, I almost said something when Edna fell out, but you know, fifty bucks is fifty bucks!"


---

GLOBAL ERUPTION

During the early hours of August 1st, NASA's Solar Dynamics Observatory recorded a complex global disturbance on the Earth-facing side of the sun. Most of the sun's northern hemisphere was involved in the event, which included a long-duration C3-class solar flare, a "solar tsunami," and a massive filament eruption. As a result of these blasts, a coronal mass ejection (CME) is heading toward Earth. High-latitude geomagnetic storms and auroras are possible when the cloud arrives a few days hence. Check http://spaceweather.com for movies and updates.



Mike says "You're wasting your time"

A great post on setting priorities. http://mikeauton.com/lifestyle/wasting-time.html?awesm=fbshare.me_AQXLn



Not a got up job? Rubbish!

Late last night I wrote a post to my blog that you may care to check out. http://tomgrimshaw.com/tomsblog/2010/08/03/not-a-got-up-job-rubbish/


---
---
Copyright 2010 by Tom Grimshaw - ALL RIGHTS RESERVED.
Back Issues | Feedback | Subscribe | Unsubscribe
Software Development
Festival Management Software
Free Business Evaluation Questionnaire
Healthy Snacks
How to Defeat Artificially Accelerated Aging and its Degenerative Diseases