Toms Tips, Links and Tidbits Newsletter
Wednesday 21st July 2010
G'day,
Hope this finds you fit and well.
Enjoy this week's selection of information morsels and have a great week!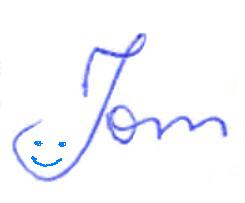 ---
Basic Computer User | Advanced Computer User | Health | Other | Videos
---
---

Advanced User Tips From Rene at Elscomm

Internet Explorer shortcuts: CTRL+I (Opens the Favorites bar). CTRL+H (Opens the History bar) . CTRL+W (Closes the current window or tab)


---

Broccoli Sprouts Effective Against Breast Cancer

In an animal study at the University of Michigan, in the US, it was found that sulphoraphane, a compound found in broccoli sprouts, eliminated breast cancer stem cells, halting tumour growth after cells were implanted in mice.



Can the Can, Honey - Not by Suzie Quatro

A study followed 6,000 regular consumers of fizzy drinks, for four years. Subjects who drank just one or more fizzy drinks each day were nearly 45 per cent more likely to develop obesity, high blood sugar, high triglycerides, and high blood pressure. The kicker: These results were nearly identical among those drinking regular fizzy drinks and diet fizzy drinks. And don't even get me started on aspartame — just pure dangerous junk, in my opinion. (The European Journal of Clinical Nutrition reports headaches, insomnia, and seizures linked to aspartame intake.) From the HSI Daily Health newsletter.


---

Your Religion Is As Important As...

...it makes you more compassionate,
more sensible,
more detached,
more loving,
more humanitarian,
more responsible,
more ethical.
There is no religion higher than Truth!"
The Dalai Lama
http://www.slideshare.net/niketkhaitan/yourreligionisnotimportant



Tata Motors to Introduce Air Powered Car

Is it the next big thing? http://trak.in/tags/business/2008/07/01/tata-motors-air-car-minicat/



Couldn't resist including this one

My wife is such a dog lady she could easily have written it
FOR THOSE OF YOU WHO HAVE PETS, THIS IS A TRUE STORY.

FOR THOSE THAT DON'T, IT IS A TRUE STORY.

The following was found posted very low on a refrigerator door.

Dear Dogs and Cats:

The dishes with the paw prints are yours and contain your food.

The other dishes are mine and contain my food. Placing a paw print in the middle of my plate and food does not stake a claim for it becoming your food and dish, nor do I find that aesthetically pleasing in the slightest.

The stairway was not designed by NASCAR and is not a racetrack. Racing me to the bottom is not the object. Tripping me doesn't help because I fall faster than you can run.

I cannot buy anything bigger than a king sized bed. I am very sorry about this. However, do not think I will continue sleeping on the couch to ensure your comfort. Dogs and cats can actually curl up in a ball when they sleep. It is not necessary to sleep perpendicular to each other, stretched out to the fullest extent possible. I also know that sticking tails straight out and having tongues hanging out on the other end to maximize space is nothing but sarcasm.

For the last time, there is no secret exit from the bathroom! If, by some miracle, I beat you there and manage to get the door shut, it is not necessary to claw, whine, meow, try to turn the knob or get your paw under the edge in an attempt to open the door. I must exit through the same door I entered. Also, I have been using the bathroom for years, canine/feline attendance is not required.

The proper order for kissing is: Kiss me first, then go smell the other dog or cat's butt. I cannot stress this enough.

Finally, in fairness, dear pets, I have posted the following message on the front door:

TO ALL NON-PET OWNERS WHO VISIT AND LIKE TO COMPLAIN ABOUT OUR PETS:
(1) They live here. You don't.
(2) If you don't want their hair on your clothes, stay off the furniture. That's why they call it 'fur'-niture..
(3) I like my pets a lot better than I like most people.
(4) To you, they are animals. To me, they are adopted sons/daughters who are short, hairy, walk on all fours and don't speak clearly.


Remember, dogs and cats are better than kids because they:
(1) eat less,
(2) don't ask for money all the time,
(3) are easier to train,
(4) normally come when called,
(5) never ask to drive the car,
(6) don't smoke or drink,
(7) don't want to wear your clothes,
(8) don't have to buy the latest fashions,
(9) don't need a gazillion dollars for college

AND!

(10) if they get pregnant, you can sell their children....


---
---
Copyright 2010 by Tom Grimshaw - ALL RIGHTS RESERVED.
Back Issues | Feedback | Subscribe | Unsubscribe
Software Development
Festival Management Software
Free Business Evaluation Questionnaire
Healthy Snacks
How to Defeat Artificially Accelerated Aging and its Degenerative Diseases